AgileEngine ranks #109 on the Inc. 5000 Regionals DC Metro list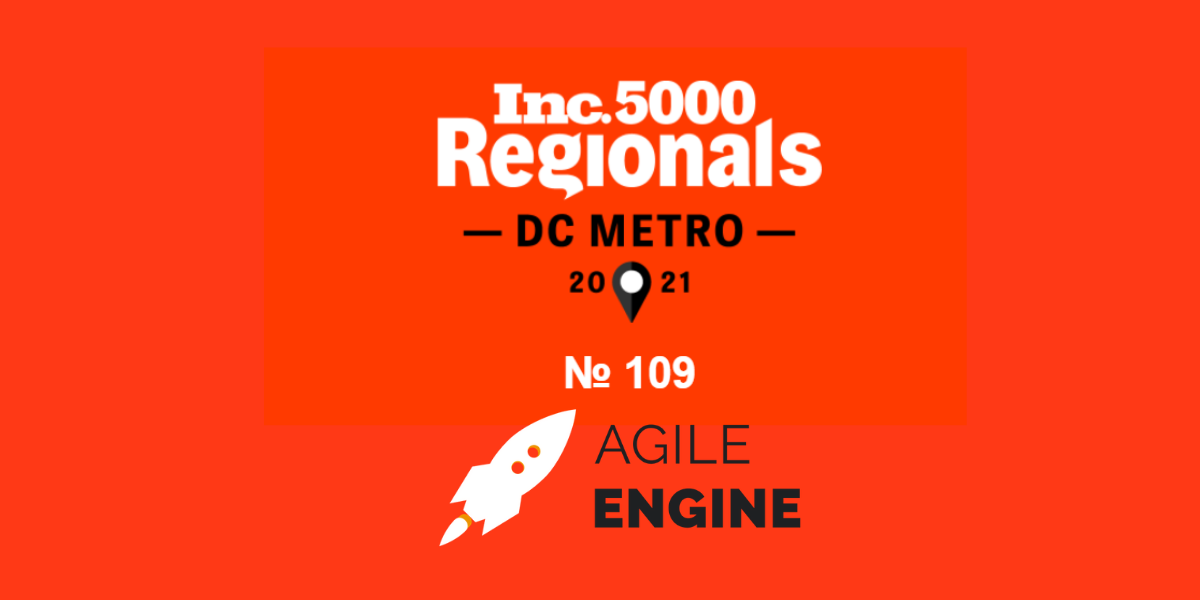 Inc. magazine has recently released its annual Inc. 5000 Regionals — the most prestigious ranking that gives an overview of the 250 fastest-growing private companies in a specific region. AgileEngine ranked #109 across the DC Metro Area that covers businesses based in Delaware, Maryland, Virginia, and Washington DC.

We also entered the top 5 DC companies in the engineering industry with an annual growth rate of 125% over a two-year period.

As reported, companies in the DC Metro Area showed one of the most impressive results by adding a whopping $15 billion to the DC area economy and opening 64,910 jobs.
This year, AgileEngine has become one of the 106 repeat honorees. In 2020, we ranked #176 with an annual growth of 70%. The company has also been part of the annual Inc. 5000 list for five consecutive years, ranking #2651 in 2020.
About Inc.
Inc. reaches over 50 million people each month, providing insights into business growth and innovations through diverse articles, lists, real stories, and business examples. Its prestigious Inc. 5000 list has been recognizing the fastest-growing companies in the US since 1982.
An extension of the Inc. 5000, its regional ranking gives a detailed description of the most successful businesses across six regions: California, Texas, Florida, DC Metro, the Midwest, and NY Metro.
About AgileEngine
AgileEngine is a DC-based software development company that counts over 500 engineering, QA, and UI/UX experts in Latin America and Eastern Europe. The company is a chosen technology partner of industry-leaders in spaces like Media, Data, FinTech, HeathTech, and more.