AgileEngine Named #1 Custom Software Development Company in San Francisco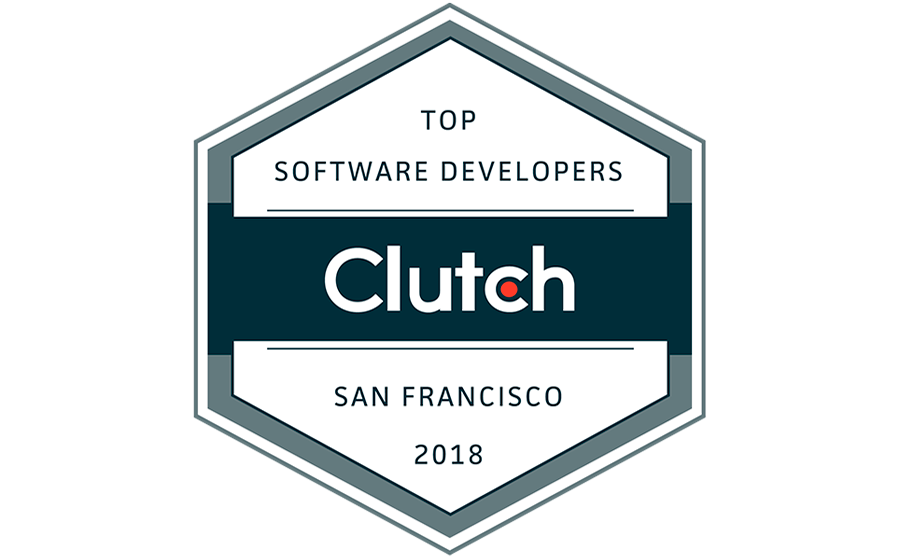 We are stoked to announce that Clutch, the research platform known to everyone in tech, named AgileEngine the LEADING Custom Software Developer in San Francisco. The news comes from a press release published on PR Newswire on Mar 29, 2018.
The chart we've recently topped reflects the Clutch Leadership Matrix featuring the top-15 custom software development agencies in San Francisco. To build and continuously update the Leadership Matrix, Clutch monitors the data reflecting the quality of the services provided by a company. Namely, Clutch look at ratings and reviews from verified customers.
Our team is super-proud with this achievement, and we're committed to keeping this spot in the future.
In addition to leading in the Custom Software Developers in San Francisco category, AgileEngine is featured among the top-ranked web and IoT Developers in San Francisco.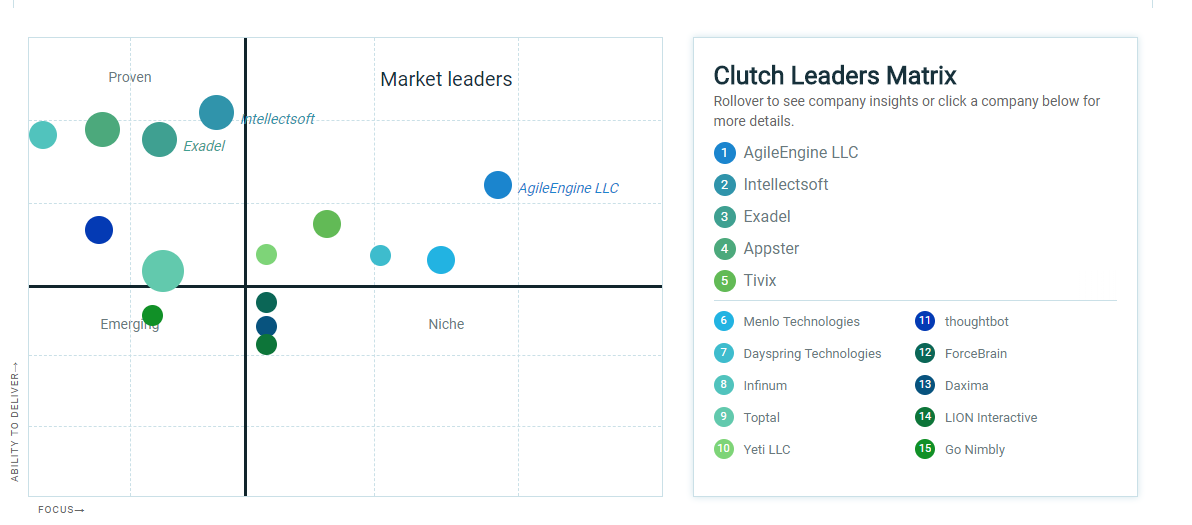 This high ranking is only possible thanks to our clients and their excellent project reviews or case studies. Each of them took the time to speak with Clutch's analysts and provide feedback on what it's like collaborating with our team. We are really grateful for our partnerships and appreciate the support they've given us over the years. Here are some of our latest reviews:
"I've worked with remote teams in the past. AgileEngine stands out for the quality of their talent. They have a phenomenal process for ensuring they onboard the best of the best, which they succeed in doing."
CEO, IoT & Software Dev Firm
"Compared to the other third-parties that I've dealt with, AgileEngine's quality of candidates has been high. If I ask them for a certain set of people, they intuitively understand what I'm looking for and actually find those qualities. Their level of experience on the project management side allows them to identify valuable skills in candidates."
Head of Quality Assurance, Agricultural Firm
"In terms of communication and collaboration, AgileEngine is genuinely a part of our team. They're interested in making us successful. They're not just a contractor clocking time, and if I'm pushing for a release to the app stores, they offer to be available whenever we need to push the release on time."
VP of Engineering, Computer Science Firm
If you want to learn more about our work, you can read other reviews published to our profile. And if there's a product that you want to build or improve, contact us and tell us about it. We have some of most talented software developers on board, and we love proving ourselves.