It's 2018, and it looks like there's never been a better time for Ukrainian software development companies. In January 2018, Ukraine's software outsourcing industry reached $3.6 billion, demonstrating a 20% year-over-year growth. Today, the export of software development services constitutes the third most profitable sector in Ukrainian economy.
It's not just export volumes, though. In 2018, Ukraine has more skilled software engineers and globally-acclaimed development shops than ever. So if you're planning to hire remote software developers or a development team, this post will detail the state of Ukrainian talent pool in 2018.
How many software developers are there in Ukraine?
Based on the data from IT Ukraine, the country's talent pool comprises of 116,000 professionals. The same source forecasts a 110% increase of Ukraine's programmer population by 2025.
Another source StackOverflow quotes an even higher figure of 204,855 programmers. This number represents the findings of a research of active StackOverflow users from Ukraine. For their research, StackOverflow trained an AI to select the accounts whose owners are likely to program often. Note that this selection includes both software development professionals and students.
Skills of Ukrainian developers according to programming ratings
Okay, 116K–205K programmers constitutes a huge talent pool, but how good are these specialists? India, in comparison, has over 2.75 million software engineers, but the stereotype of the "bad coder" makes this figure worthless. Is the average Ukrainian developer any better? One way to answer this question is by looking at global programmer charts and ratings.
SkillValue world ranking 2018
The skills assessment resource SkillValue ranks Ukraine the 8th among the world's top countries with the best programmers compared to #34 for India. The average score index for Ukrainian programmers is 91.26%. Commenting on their ranking system, SkillValue mentions that all countries within the 1–20 range make for excellent destinations for outsourcing software development.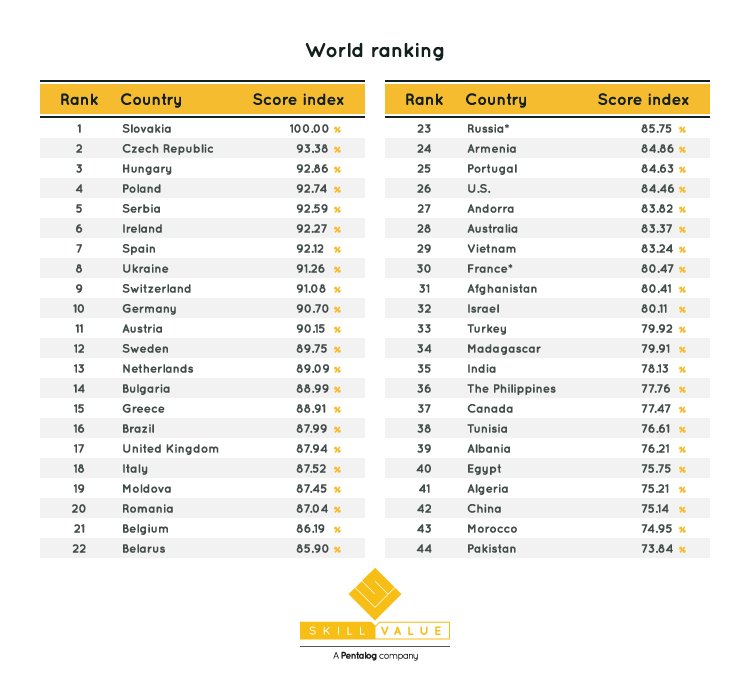 TopCoder Country Ranking (2018)
The TopCoder chart tracks programmers' activity in the last 180 days, which makes for a regularly-updated rating system. As of July 2018, Ukraine is on the 6th position in the TopCoder chart.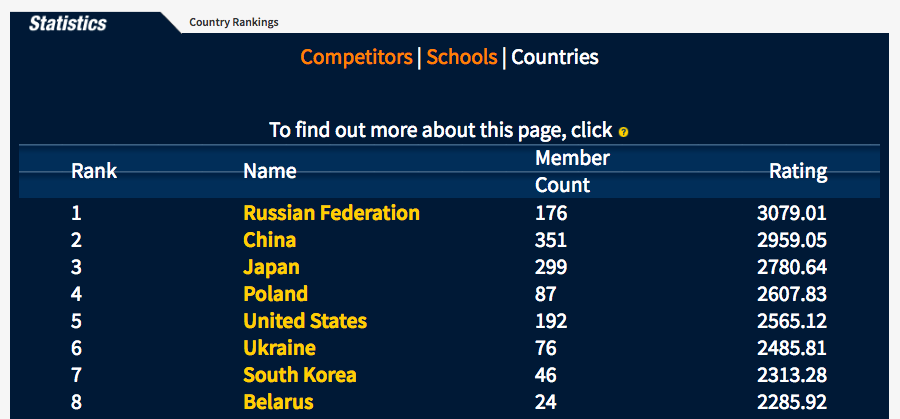 HackerRank Programming Olympics (2016)
Ukraine came 11th in the 2016's HackerRank Programming Olympics
. The country also leads the chart in the Security category and occupies the 4th position in Mathematics and Distributed Systems.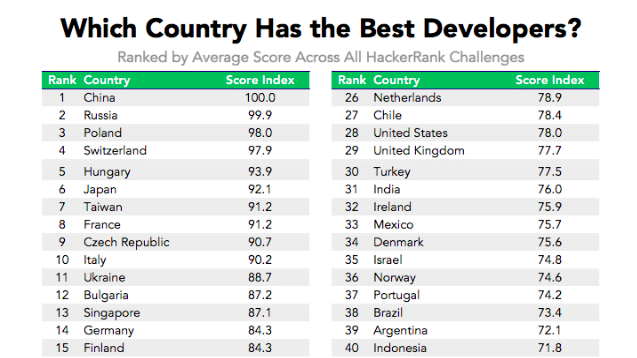 Ukraine's outsourcing potential according to global rankings
When it comes to companies specializing in software outsourcing, Ukraine really takes the global lead. This year's Global Outsourcing 100 list includes 18 Ukraine-based software development companies. Out of these 18, six are international vendors with offices in Ukraine, and 12 are Ukrainian-founded. Still, even if you count only these 12 companies, Ukraine has more software development firms on the Global Outsourcing 100 than any other country.
There are other outsourcing ratings and rankings that featured Ukraine in the past few years:
Who outsources to Ukraine?
Ukraine houses R&D centers of Oracle, Samsung, Huawei, and IBM. In addition, brands like Skype, Microsoft, LG, and Qualcomm outsourced the development of their products to Ukrainian software engineering teams. Other examples of brands outsourcing software development to Ukraine include BBC, BuzzFeed, Reuters, Deutsche Bank, Harley-Davidson, and Guinness.
Experience and seniority of Ukrainian software developers
DOU, a media resource that covers the Ukrainian IT industry, has recently published a study profiling local software developers. Based on a survey of 8638 people, the study sheds some light on the Ukrainian talent pool. In particular, DOU offers a detailed coverage of Ukrainian developers' experience and seniority.
Experience: years spent in software development
One of the survey findings is that ~43% of respondents have 3–10 years of experience in the field.
| Experience (Years spent in software development) | Percentage of respondents |
| --- | --- |
| less than 1 year | 13% |
| 1–2 years | 25% |
| 3–5 years | 27% |
| 6–10 years | 16% |
| more than 10 years | 13% |
Among the respondents with less than 1 year of commercial experience, 33% specialize in front-end development. About 30% of software testers have 3–5 years of experience. Over 40% of system administrators have more than 10 years of experience.
Commercial experience: number of previous companies
Based on the study from DOU, ~66% of Ukrainian software developers worked for 2–7 companies in the past. Only 2% of respondents worked for 8 or more employers.
| How many companies have you worked for previously? | Percentage of respondents |
| --- | --- |
| 1 company | 27% |
| 2 companies | 28% |
| 3–4 companies | 29% |
| 5–7 companies | 9% |
| 8 or more companies | 2% |
Working with several teams and products is a good way to broaden one's horizon. Engineers with 2 or more companies in their resume can often boast better soft skills and better overall understanding of software product development.
Seniority levels
Speaking of seniority, middle developers constitute the most populous demographic, followed by junior specialists. Still, companies in Ukraine get a healthy supply of tech leads and senior software engineers as well:
| Seniority level | Percentage |
| --- | --- |
| Junior | 26% |
| Middle | 36% |
| Senior | 19% |
| Lead | 11% |
Most middle software developers featured in this report have 3–5 years of experience. In the meantime, senior developers have 6–10 years of experience in software engineering.
Top career specializations: development, QA, and management
As of 2018, software development is the career of choice for 52% of DOU respondents. QA comes a distant second with 14%, followed by management positions (6%).
| Career specialization | Percentage |
| --- | --- |
| Software developer | 52% |
| Software tester | 14% |
| Manager | 6% |
Basically, there are three to four developers for each tester, and project managers get to run teams of 9 people on average. Other popular roles include ops, system administration, UI and UX design, management, etc.
Top-15% programming languages popular among Ukrainian software developers
Another survey from DOU
zooms in on the programming languages popular among Ukrainian programmers. Based on responses from 7361 people, Java, JavaScript, C#, PHP, and Python are the top-5 programming languages in Ukraine by market share. Other popular languages include C++, Swift, Ruby, Go, and Scala.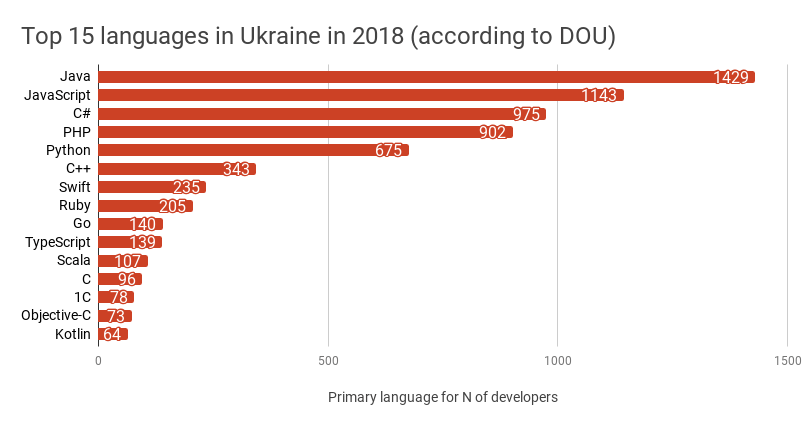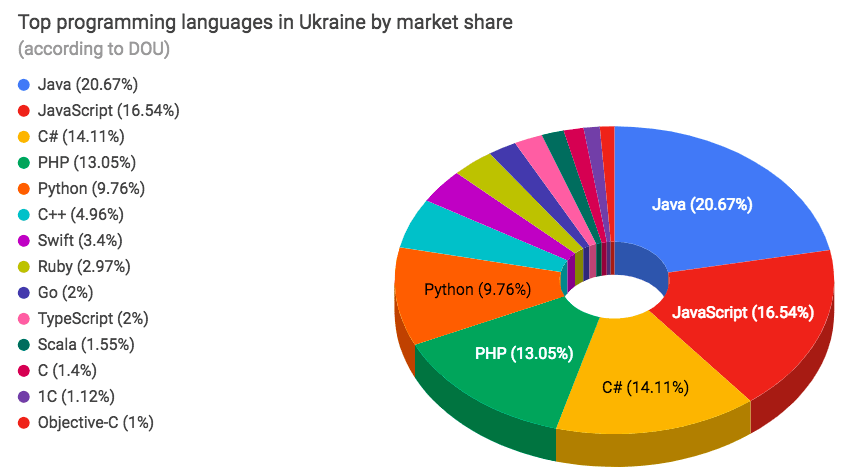 Ukrainian developers with trending tech stacks
Our own research conducted in the spring of 2018 goes deeper into the adoption of trending technologies among software engineers and development companies in Ukraine.
The table below reflects the LinkedIn accounts of software engineers specializing in mainstream technologies. Namely, we looked at React Native, React, Angular, Node, Java, C#, Ruby, as well as QA and UX.
| | Kyiv | Kharkiv | Odessa | Lviv |
| --- | --- | --- | --- | --- |
| React Native | 214 | 152 | 57 | 103 |
| Node.js | 1603 | 882 | 385 | 743 |
| Java | 6853 | 3439 | 1535 | 2996 |
| .NET | 2769 | 1866 | 378 | 1650 |
| Ruby | 864 | 550 | 199 | 697 |
| Angular.js | 1348 | 928 | 276 | 775 |
| React.js | 1324 | 785 | 277 | 587 |
| QA | 7220 | 3915 | 1648 | 3780 |
| UX | 3840 | 1724 | 665 | 1123 |
Costs: how much does software development cost in Ukraine?
Pricing varies drastically across companies, which makes costs difficult to evaluate. Nevertheless, it's still possible to quote averages and medians for a high-level picture. For instance, the table below features the median salaries of Ukrainian software developers as of December 2017.
Median salaries of Ukrainian software developers (as of December 2017)
| Experience and role | JavaScript | Java | Objective-C | Swift | Scala |
| --- | --- | --- | --- | --- | --- |
| 1–2 years (Software engineer) | $1400 | $1800 | $1200 | $1700 | $2250 |
| 3–5 years (Software engineer) | $2200 | $2300 | $2260 | $2450 | $3400 |
| 6–10 years (Senior engineer) | $3800 | $4000 | $3600 | $3500 | $4300 |
| 6–10 years (Tech lead) | $4500 | $4325 | $3800 | $4500 | $5000 |
Note that this data comes from all types of Ukrainian companies. This includes outsourcing firms, local software product brands, small agencies, non-software businesses, etc. Besides, these figures exclude the costs charged by outsourcing firms on top of developer salaries (these can range from 10% to as much as 30%).
Average minimum and maximum rates of outsourcing companies in Ukraine
Another way to infer the cost of software development in Ukraine is by looking at average rates charged by development shops. This sort of information is available on Clutch.co. The average minimum rate of the top-20 custom software development companies featured on Clutch is $32.5. The average maximum rate of top-20 companies in Ukraine is $61.5.
O'Reilly Software Development Salary Survey (2016)
The Software Development Salary Survey conducted by O'Reilly in April 2016 still offers some insight into how Ukraine compares to other outsourcing destinations.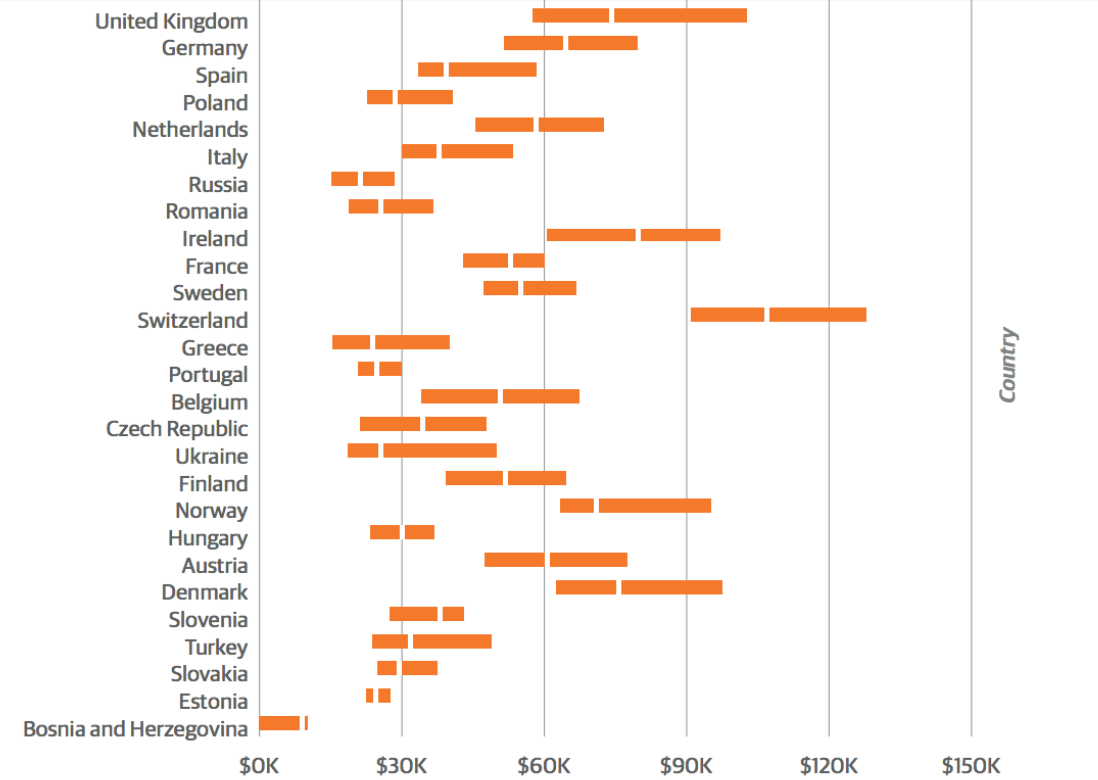 In our own experience, Ukrainian programmers cost ~40–50% of what our Bay-Area-based customers pay their in-house developers. This is true for seasoned engineers with proven commercial experience and excellent reviews from past clients.
Types of software companies in Ukraine
The majority of software developers in Ukraine work for businesses of five types: outsourcing, outstaffing, product, and non-software companies, as well as startups. A relatively small portion (3%) of developers work as freelancers.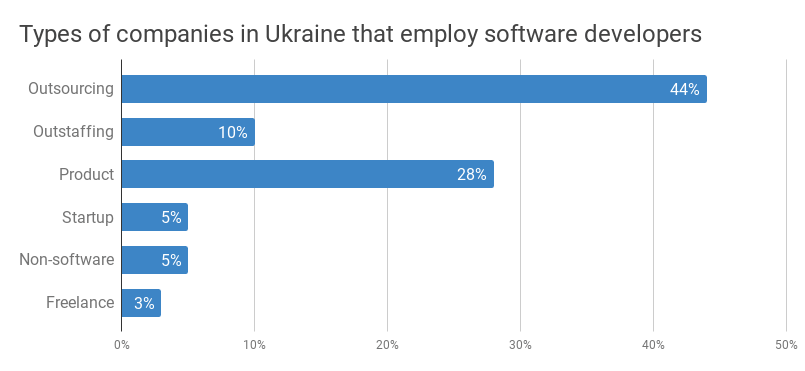 Where to outsource in Ukraine?
According to DOU, approximately 81% of Ukrainian software developers live across five cities: Kyiv (Kiev), Kharkiv, Lviv, Dnipro (former Dnipropetrovsk), and Odessa. Almost a half of these 81% reside in Kyiv, the country's capital.
| City | Share of Ukrainian developers |
| --- | --- |
| Kyiv (Kiev) | 40% |
| Kharkiv | 15% |
| Lviv | 12% |
| Dnipro (Dnipropetrovsk) | 8% |
| Odessa | 6% |
| Vinnytsia | 3% |
| Zaporizhia | 2% |
| Ivano-Frankivsk | 1% |
Generally speaking, larger developer population means faster hires. Developers from larger cities are also quicker to adopt new technologies. So if you're looking for, say, Flutter developers in Ukraine, searching outside of Kiev, Kharkiv, Lviv, and, maybe, Odessa will make little sense. As of 2018, the same goes for pretty much anything AI-related.
At the same time, it's not uncommon for companies to outsource simpler projects to dev shops in smaller towns. So if you need to build a corporate website or outsource manual QA, Dnipro, Vinnytsia, or Zaporizhia might prove to be great options.
Attrition rates, motivation, and working conditions
One impressive thing about Ukraine's software sector is its low attrition rates. According to LinkedIn, American tech businesses faced record-breaking employee turnover rates of 13.2% in 2017. The number is even higher in Indian software development companies where attrition rate can reach 20–21%. In the meantime, the employee turnover stays low at 10% in Ukrainian companies in the IT sector.
Here are the stats from DOU that characterise working conditions and motivation of Ukrainian software developers.
Job enthusiasm and salary satisfaction
The charts below provide stats on survey respondents' attitude towards their current job.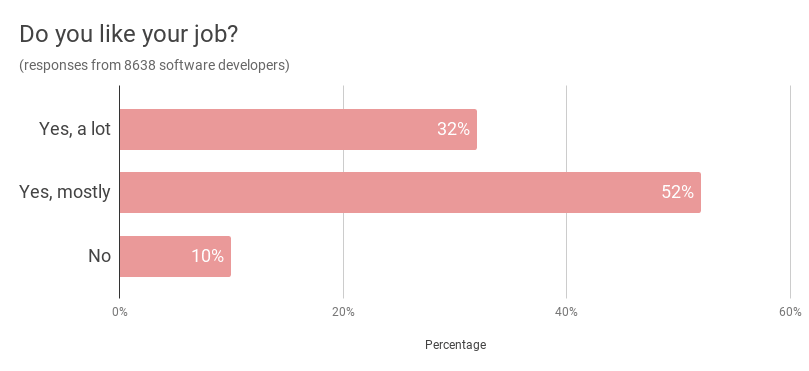 The same survey had a similar question on salary satisfaction: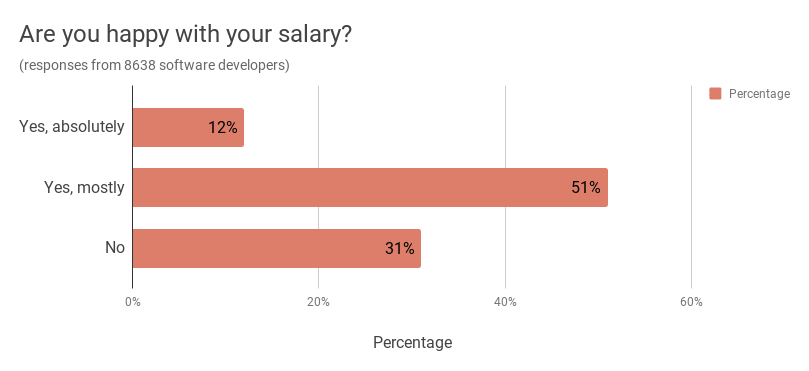 Working conditions
According to DOU, 80% of software developers in Ukraine work from offices, as opposed to working from home or a coworking spaces: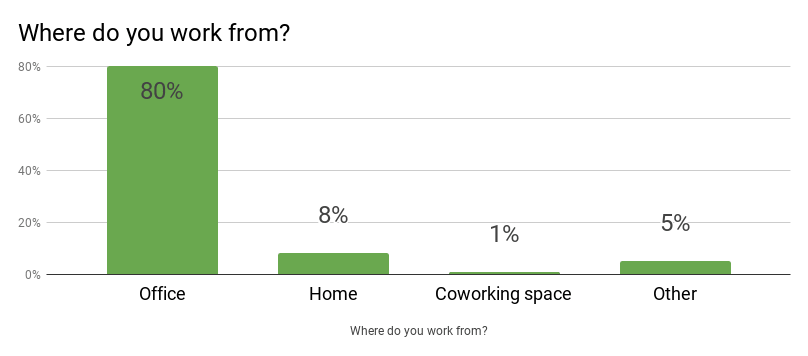 An overwhelming majority of software developers in Ukraine are happy with their working conditions:
What outsourcing company to choose in Ukraine?
A must-follow piece of advice when choosing an outsourcing company is to always do your homework. Reputable dev shops are always ready to provide you with case studies of their past projects and verifiable customer reviews. Whenever possible, take your time to study your potential partners' background.
Clutch is another source of client reviews. The resource rates development shops, too, allowing you to choose from the best. And if you're looking for a high-ranking custom software development company in Ukraine, AgileEngine is one of your top-10 options.
Why Choose AgileEngine?
We are a DC-based Inc 5000 business with remote development centers in Ukraine's Kyiv, Kharkiv, and Odessa. We are among the top-10 Ukrainian development shops according to Clutch, and one of the best employment destinations for Ukrainian programmers according to DOU.
There are other reasons to choose us, as well:
Clutch named us the best custom software development firm in San Francisco. We're also one of the top providers in DC and Bay Area, and one of the top-ranking Ukraine-based providers.
Facebook featured our React Native app on the React Native Showcase.
Our portfolio includes the success stories with brands that you hear about every day.
Our developers are in Ukraine and Argentina. Working from these nearshore location allows us to connect American brands to the best global talent at 50–60% of the cost of a local hire.
We have more than a decade of experience in custom software development. We establish dedicated teams of software engineers for world-known media brands, global BI and commerce platforms, and Kickstarter success stories.
Our expertise covers mobile, UI, enterprise, and full-stack web development. Our software engineers are open-source contributors and thought leaders in their fields, and they love to prove themselves. So if you'd like to learn more, contact us and ask our manager about the risk-free trial.