The birth of Agile Engine – Offshore Software Development Company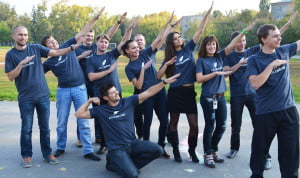 It is official – on August 6, 2013 CreamTec LLC has changed its name to AgileEngine LLC. Our old name has served us well since year 2000 but the time has come for a new beginning at our fast growing software development company.

From our Java product roots we've grown into a diverse company with multiple teams of highly skilled offshore Java, .Net, Ruby and mobile developers and we needed a new identity that inspires and attracts. After much deliberation and countless hours on NameStation.com (highly recommend!) we came across AgileEngine and it wasn't long before the name stuck. Unlike big heavyweight tech companies (they-who-will-not-be-named) we believe in Lean thinking and Agile development and we found a name that reflects it. Toying around with log ideas we came up with the rocket ship and it was love at first sight! So there you have it – AgileEngine's rocket ship boosting customer success and taking us into the stratosphere!
About AgileEngine
We are a software development company headquartered in Washington, DC with development centers in Eastern Europe and Argentina. As an offshore outsourcing company, we build teams of dedicated programmers for top tech companies and ambitious startups. Since 2000 we've been successfully using Lean and Agile development methodologies to turn ideas into software that people love. 100% client retention rate is our main credit! If you have any questions regarding agile offshore software development – please contact us!