Top tech companies in Bay Area to watch in 2018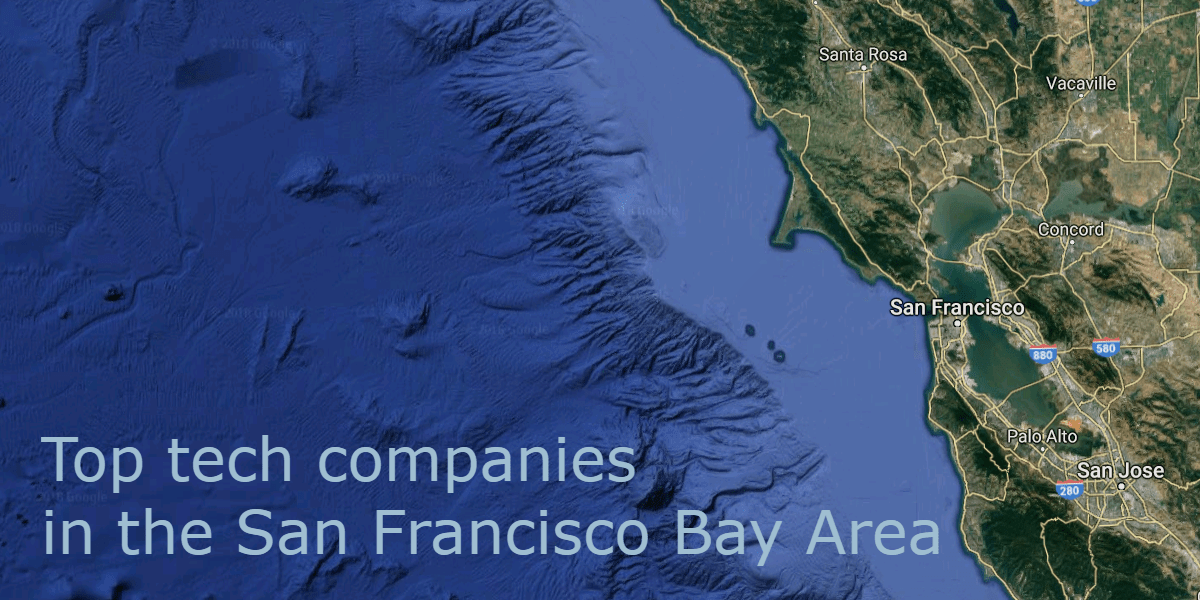 This year, AgileEngine became one of the top tech companies offering custom software development services in the San Francisco Bay Area. Thanks to the reviews from our awesome clients, we won the #1 spot in the local Leadership Matrix on Clutch.io. So, technically speaking, we rank among the leading tech companies in the region. Neat, huh?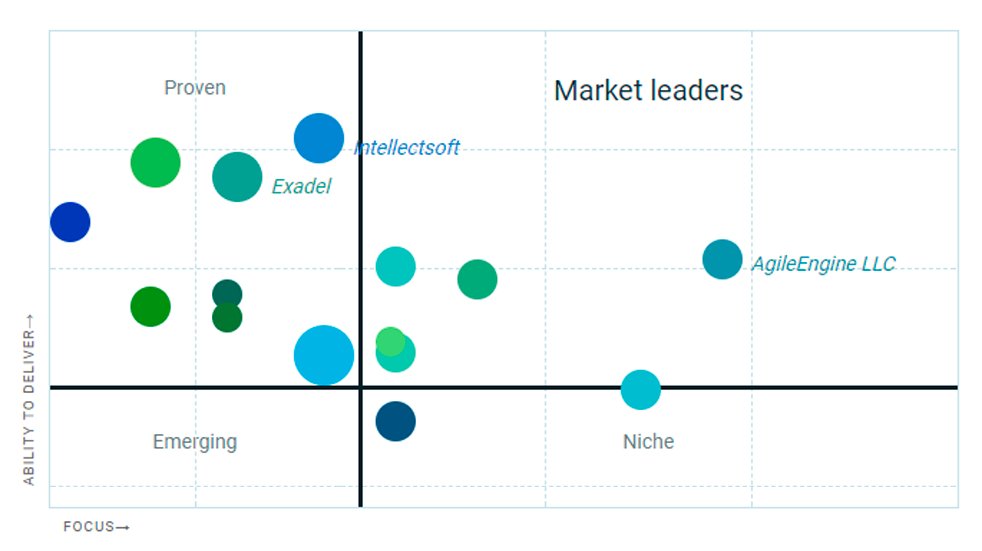 Bragging aside, being an outsourced software development provider in the Bay Area, many of our clients are VC-funded startups on the San Francisco tech scene. In 2017, this scene had quite a few brands in the spotlight. Namely, here are 20 Bay Area's VC-backed tech companies that got the attention of Pitchbook, Business Insider, TechCrunch, and American City Business Journals. We figured someone might find it useful so here it goes.
The San Francisco tech scene: top tech companies ranked by funding
| Name | Funding raised in 2017–2018 | Product focus |
| --- | --- | --- |
| Percipient.ai | $3M | Decisive intelligence platform |
| Dote | $7.2M | Shopping app with brands not featured on Amazon |
| Motiv | $8.18M | Ring-sized heart rate monitor and fitness tracker |
| Momentum Machines | $18.4M | Hamburger-making robots |
| AutoFi | $21.5M | Ecommerce solutions for car dealership |
| Instabase | $23.2M | Automation of business operations |
| Modsy | $23.8M | Visualization app for interior design |
| Crew | $24.9M | The Slack of non-desk professions |
| Figma | $25M | Web platform for UI/UX designers |
| Spoke | $28M | Artificial intelligence for help desks |
| Brandless | $35M | Online retailer selling debranded everyday essentials |
| Nurx | $36.2M | The Uber of birth control prescription and delivery |
| Virta Health | $37M | Diabetes treatment and health monitoring software |
| Qadium | $40M | Cybersecurity solutions |
| Confluent | $50M | Real-time Big Data platforms based on Apache Kafka |
| Fungible | $65M | Hardware and software for data center infrastructures |
| Gladly | $72M | Case management tools for customer service |
| Ripcord | $99.5M | Robots that digitize documents and records |
| C3 IOT | $111.8M | PaaS for IoT, Big Data, and machine learning |
| Zoom | $115M | Solutions for enterprise video communications |
Percipient.ai
One of the high-ranking AI tech companies in the US, the Sunnyvale-based  Percipient.ai caters to both enterprises and the military. Its multi-INT solutions use activity-based intelligence and decisive intelligence to analyze natural language, video, and geospatial data in a precise and scalable manner. Previously valued at $270,000, Percipient.ai broke into the ranks of Bay Area's top tech companies, raising $3,000,000 in 2017.
Dote
Dote got its initial foothold as a shopping startup featured on Planet of the Apps. The SF-based company connects shoppers to 140+ women's apparel brands, with many items unavailable on mainstream shopping platforms like Amazon. Founded in 2014, Dote has gone through a number of fundraising deals in 2015 and 2016. In 2017, it raised $7.2 million from Lightspeed Venture Partners.
Motiv
Motiv earned its place among the top tech companies in SF by pushing a unique vision of a fitness tracker. Instead of going with the wristband form factor, Motiv crammed all the sophisticated fitness and sleep-tracking hardware into an elegant ring-sized gadget. The company has raised a total of over $20 million since 2013, and it won another $8.18 million in its Series A3 in early 2018.
Momentum Machines
Hamburger-making robots. If this doesn't sound like the definition of awesome, I don't know what does. What's even more awesome is that Momentum Machines employs brainpower from Berkeley, Stanford, Tesla, and NASA to make hamburger-making robotics happen.
There is pragmatic value in what Momentum Machines is trying to accomplish, too. If done right, intelligent automation will help reduce the cost of gourmet hamburgers while still keeping the bar high. Or, at least, we can all hope that's achievable with a funding of $18.4 million.
AutoFi
AutoFi sees its grand purpose in making car purchasing less tedious. The company's platform helps buyers find authorized car dealerships, speeds up the process of getting financial decisions, and automates documentation. AutoFi has already gained the support from Ford and raised a total of $21.5 million in the past 12 months.
Instabase
Backed with a solid expertise in data science, Instabase is building a suite of tools that automate business processes and facilitate decision-making in enterprise environments.
Founded in 2015, the company seems to have been sure and steady in gaining its pace. This said, it was a successful year in 2017 that made Instabase one one of the most promising tech companies in the Bay Area. The company's valuation grew from $27M to a stunning $115M, with $23.2M coming from its 2017's Series A deal.
Modsy
If you're looking for a smarter way to redesign your home or office, look no further. Modsy has earned its place among the top tech companies in SF by helping people do exactly this.
The company's platform transforms the pictures of you residence into Sims-like virtual models that you can edit. The app then uses visual quizzes that help you decide on a new interior design style. It also shows you how your existing furniture would fit into that style and offers consultations from a professional stylist.
Crew
Crew is a messaging application with the added functionality for streamlining teamwork and team communications.
If this sounds like Slack, you're not wrong, but there is a catch. Crew differs from Clutch in that it targets non-desk workers. Think hotel and restaurant personnel, nurses, or firefighters — or any other profession that doesn't involve a desktop computer or a laptop. It's easy to see how an app of this sort can be useful, and this explains the $24.9 million funding that Crew won 2017.
Figma
Figma takes what Sketch can offer and brings most of it to the browser. A powerful web application for professional UI/UX design, Figma boasts unmatched collaboration and version management functionality. Coupled with the advantages of a cross-platform web application, these features brought Figma tons of positive coverage, helping it raise over $25 million in 2017.
Spoke
One of the 2017's most successful tech companies in the AI niche, Spoke raised $28 million from Accel Partners, Greylock Partners, and other investors. Spoke develops AIs that manage workplace requests and help desk tickets. The company's bots answer mundane questions, redirect complex tickets to humans, and get progressively smarter thanks to machine learning.
Brandless
Getting rid of branding is the idea that brought Brandless $35 million in Series B funding. The San Francisco ecommerce startup sells everyday essentials including health and personal care products, household items, and food. All products sold via the Brandless website get a 3-dollar price tag and a neat de-branded packaging.
Nurx
Nurx simplifies birth control prescriptions by eliminating the need for repeated visits to the doctor's office. The Nurx app provides a channel for sharing information between the patient and the doctor, and it enables its users to select from multiple delivery services. The app is available in 16 states, with plans for expansion fueled by a $36.2 million funding raised in 2017.
Virta Health
Virta Health joined the top-funded tech companies in healthcare by raising $37 million in 2017. The company uses a mobile application as a primary medium for delivering its diabetes treatment plans to patients. The functionality of the app covers health monitoring, learning materials, and communication with health coaches and physicians.
Qadium
If the idea of hiring an ex-CIA agent to handle your cybersecurity sounds thrilling, that's exactly what Qadium is all about. The founder of Qadium worked on cybersecurity for CIA and DARPA, and the startup itself grew from a government lab. Today, Qadium programmatically locates vulnerabilities in the infrastructures of Fortune 500 companies, and the funding it raised in 2017 totals $40 million.
Confluent
One of the big-time tech companies in Big Data, Confluent is the brainchild of the creators of Apache Kafka. Confluent uses Apache Kafka at its core, and it simplifies the integration of the open-source stream processing technology into the business processes of enterprises. The company raised $50 million from its Series C deal, which will certainly help it grow its presence in its niche.
Fungible
Another enterprise-centric tech brand on our radar, Fungible creates hardware and software for data center infrastructures. The company has experienced a 360% valuation increase in Q1 2017. It also generated $32.5 million and $65 million through Series A and Series B deals.
Gladly
Gladly is a startup on a mission of transforming customer services into meaningful conversations. According to the company, reaching this goal is possible with human-centric case management tools that mimic the UX of messenger apps. Gladly already has a success story with JetBlue in its portfolio, and its Series C deals brought it $72 million in 2017.
Ripcord
Turns out paper documents are still a pain to manage, which means existing digitization solutions aren't good enough. That's exactly where Ripcord comes into play. The company builds robots that digitize printed records, and its cloud platform simplifies the handling digital copies. The solutions offered by Ripcord look promising — or, at least, promising enough to yield the company $99.5 million in five fundraising rounds.
C3 IOT
As far as top tech companies go, artificial intelligence and the Internet of things are huge niches.  C3 IoT brings greater scalability to both, by offering a PaaS for the deployment of IoT and AI applications in high-tech industries. The company's portfolio also includes a data lake and a bunch of machine learning solutions for various applications: from CRMs to inventory management.
Working with large industries (including aerospace, energy, and automotive), C3 IoT also deals with large budgets. The company has gone through Series E and Series F rounds in 2017 and 2018, raising $111.8 million to fuel its further growth.
Zoom
The enterprise video communications niche seems like a crowded niche, but it has its leaders. As far as we're talking top tech companies in video conferencing, Zoom has what it takes to successfully compete with Microsoft and Cisco. Having closed a Series D deal in 2017, the company has raised $115 million in 2017.

Closing thoughts: top VC-backed tech companies in 2019
Looking at the list of 2018 VC leaders, what would it take to become one of the best-funded tech companies in 2019? Is it a unique vision or idea? Few of the companies on our 2018's list offer unique products or unique solutions. As a matter of fact, even the hamburger robotics firm has a direct competitor, Flippy from Miso Robotics.
What really makes all of these companies stand out is how they implement all their ideas and vision. In 2018, it's difficult to be unique, yet it's a lot more feasible to become the best at what you're doing. As long as we're talking about the best software products, talented software developers are indispensable. So if hiring talented software developers has been a challenge, drop us a line.