E-commerce technology drivers in 2021
The past year and a half have been a wild ride for e-commerce. With in-store retail on lockdown, digital has grown ever more important, yet also more competitive. Coupled with the advent of new technology, this has created a truly unique environment for e-commerce to evolve. Let's explore five prominent e-commerce trends driven by new technology and leading-edge software solutions.
Fueled with data and AI: big brands' D2C adoption
In 2020, Nike's direct-to-consumer (D2C) sales yielded $12.4 billion, constituting 35% of its brand revenue. Under Armour saw a 17% increase in D2C revenue during the same year despite a 7% drop in the wholesale department. Together with the lockdown, this dynamic has prompted the activewear brand to close 3,000 stores while prioritizing D2C. Similarly, Adidas is planning to make 50% of its sales via D2C by 2025.
Integral to the big-box brands' increasing D2C adoption are data solutions — like the predictive analytics SaaS Celect and data integration platform Datalogue acquired by Nike. With product discovery and personalization at its core, D2C also relies on tailored storytelling, customer-centric marketing, and granular control over brand representation across channels. All of these are a matter of fine-tuned interplay of CDPs, DMPs, BI, data enhancement, as well as mobile, web, and marketing analytics.
Assisted by bots: e-commerce brought to messengers
Facebook Messenger for Business registers 20 billion monthly messages exchanged between companies and consumers. Used by 4 billion people worldwide, messengers are the 3rd most popular social app category following social networks and media sharing software like Snapchat. For mobile-native consumers, texting is a familiar, natural way of interacting with apps and businesses.
Chatbots offer an effective e-commerce tool that leverages texting as user experience. While 70% of users don't purchase via social commerce, 47% are open to buying via chatbots. This is especially true for highly specialized bots that:
recognize shopper intent
keep track of conversation context and remember previous messages
have a distinct, consistent personality
can manage user expectations and know when to escalate to human operators.
Meeting these requirements requires multidisciplinary expertise in natural language processing, software engineering, conversational UI/UX, and communication strategy. Yet the result can be well worth it. According to WineText, the company's SMS bot delivers 15 times the performance of other channels like email.
Transformed digitally: in-store retail
The pandemic has affected buying habits in many ways, directing consumers online. Amid the 9.2% decline in in-store retail, e-commerce has grown by 16.5% in 2020. To absorb the shock created by lockdown, in-store retailers had no choice but to accelerate digital transformation.
By the end of the last summer, almost 44% of retailers were offering curbside pickup, up from 6.9% pre-pandemic. Costco and TJ Maxx have launched online shopping, and Walmart expanded its 2-hour Express Delivery to more than 1000 stores. Also, 7000 Walgreens pharmacies now support the "buy online pick up in-store" model (BOPIS).
This global move to BOPIS and curbside pickup introduces added costs associated with item pick up, packing, and delivery, and the inevitably higher return rate. Key to keeping these costs down are data, supply-chain management, and highly-optimized shopping UX.
Scaled beyond borders: e-commerce internationalization
Tapping into international markets is a strategic challenge that involves many technical efforts. Will you localize your website and app and how will you deal with people seeking customer support in that language? Will you optimize pricing for the new market beyond merely converting currencies? How will you scale, handle shipping, taxes, local regulations, and advertising in new markets?
Each of the challenges above may look daunting. Yet, the global population dynamic suggests that international markets are growing ever more important.
McKinsey estimates that more than 85% of middle-class growth comes from the Asia Pacific, a region that's well-positioned to overtake the West as the primary consumer market. The emerging markets have more than a billion new consumers spending between $10 and $100 a day. Targeting these consumers is already becoming a new frontier for the e-commerce sector.
Driven by AR: virtual try-on, pop-up experiences, and more
It's been nine years since Converse launched Sampler, the first mainstream try-on app for iPhone, and it looks like AR has reached mainstream adoption. According to Gartner, one in three enterprises in 2021 will deploy multi-experience platforms supporting augmented reality.
This prediction is definitely coming true in e-commerce. Brands like Nike, Gap, IKEA, Amazon, Lowe's, and Wayfair have been leveraging AR try-before-you-buy solutions for years. Other retailers like Burberry experiment with mobile AR to create pop-up experiences, with virtual Elphis statues walking around stores.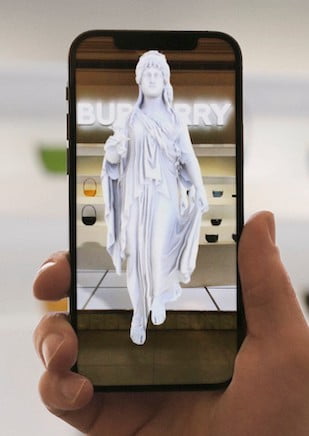 AR is turning into a gateway to e-commerce for non-commerce brands as well. In spring, the AR powerhouse Snap Inc. acquired the fashion recommendation tool Screenshop and the sizing technology solution Fit Analytics. These acquisitions have been consistent with the company's strategy of bringing its AR capabilities into e-commerce.
With greater opportunities unfolding for e-commerce, the competition is also greater. To stay on top of this competition, companies need a fast, reliable, and scalable software development and design strategy. If you're open to expanding your R&D to nearshore locations, this strategy may be just a few clicks away. Explore our e-commerce expertise and see what advantages AgileEngine and our risk-free remote R&D model can offer you.