Argentina vs Ukraine — software outsourcing destinations compared

Check the brands above, and you'll see companies that outsource software development to Argentina or Ukraine. Other brands that hire dev shops in these outsourcing destinations include Samsung, Harley-Davidson, Guinness, and more.
So how do the two markets compare?
Let's zoom in on Argentina and Ukraine, the two destinations on either side of the Atlantic that always top the lists of countries with top developers. Here are the six criteria that we're going to use:
Availability of developers. We'll evaluate the state of the countries' talent pools and infrastructure.
Proficiency in software development. This section covers the programming charts and outsourcing rankings.
Costs. Sources like Clutch and O'Reilly Media can provide a rough picture of developer salaries and software outsourcing rates in Argentina and Ukraine.
Attrition rates. We conducted an internal research on attrition rates in both countries.
Time zones. Nearshore time zones allow for more efficient communications.
Communication Skills. This section will compare the EF EPI English Proficiency Index in both destinations.
1. Market size: software development in Argentina vs Ukraine
Argentina's talent pool exceeded the 80,000 specialists milestone in 2015. This figure represents a 35% growth compared to 2010.
There have been nationwide attempts to further this growth, too. In 2016, the government-backed 111 Mil Program launched to foster new software development talent. The program brought ~2000 new developers to Argentinian job market in Q1–Q2 2018. Approximately 4000 more specialists will graduate 111 Mil by the end of this year.
Specialisation-wise, export of programming services is the primary business for ~45.5% of Argentinian software companies. About 20.8% of firms generate profits from own software products.
Ukrainian software companies, in the meantime, employ 116,000+ professionals. Counting freelancers, the number of Ukrainian software development specialists reportedly reaches 230,000 people. And there are ~15,000 young specialists graduating from technical universities annually, fueling the growth of the local talent pool.
Speaking of infrastructure, Ukraine houses more than 1000 development shops. Out of these, 18 Ukraine-based firms rank among the world's top outsourcing companies listed in the 2018 Global Outsourcing 100. The same chart only lists one Argentinian development shop.
Winner: Ukraine
2. Proficiency in software development
Raw numbers aside, what sort of quality and skills can you expect in Argentina and Ukraine? The only precise way to answer this question is via developer interviews. You can also draw a high-level comparison between different destinations thanks to various programmer rankings and charts.
One example of a well-known, constantly-updated programmer chart is the TopCoder Country ranking. The chart lists both outsourcing countries, with Argentina ranking 20th and Ukraine occupying the 6th position. To draw a comparison, US is on the 5th position in the same chart.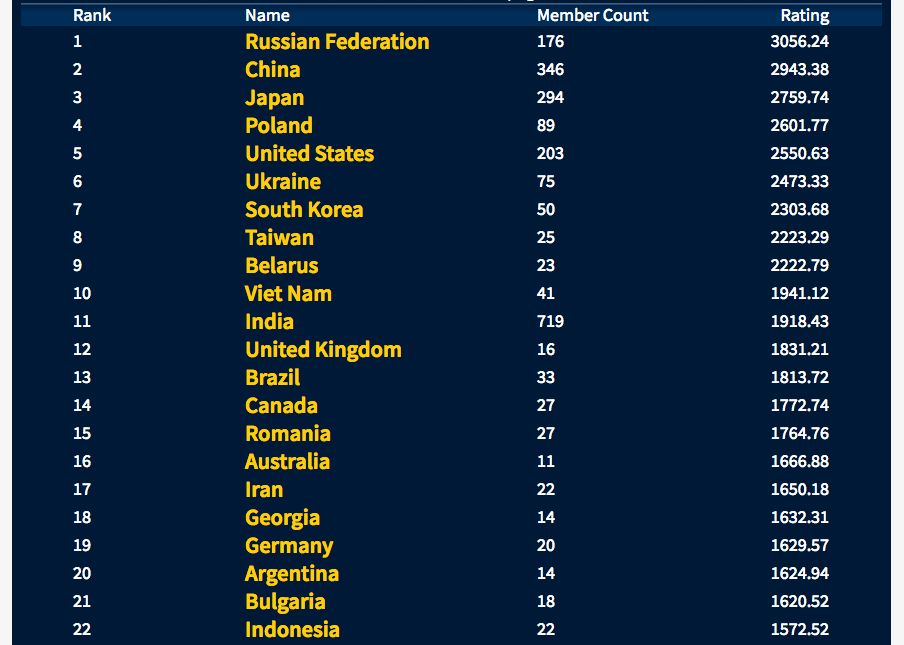 Another popular programmer-centric ranking HackeRank published Programming Olympics in 2016. In this chart, Argentina and Ukraine rank 39th and 11th respectively.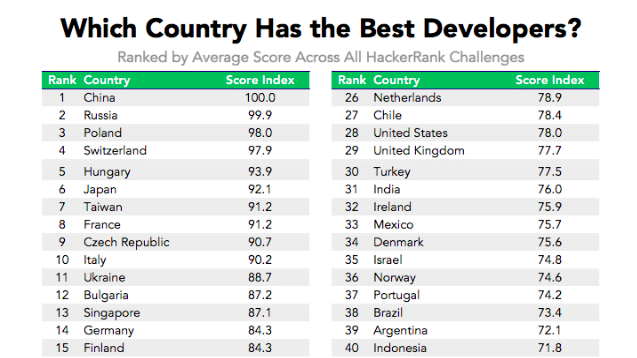 HackerRank also included Ukrainian software developers into the top 5 for Distributed Systems and Mathematics. Besides, Ukraine took the lead in the Security ranking.
Winner: Ukraine
3. Software outsourcing rates in Argentina and Ukraine
The chart below really makes a case for outsourcing software development. Countries like Argentina and Ukraine have thousands of talented nearshore developers who can match Silicon Valley-based engineers yet cost 50–60% less.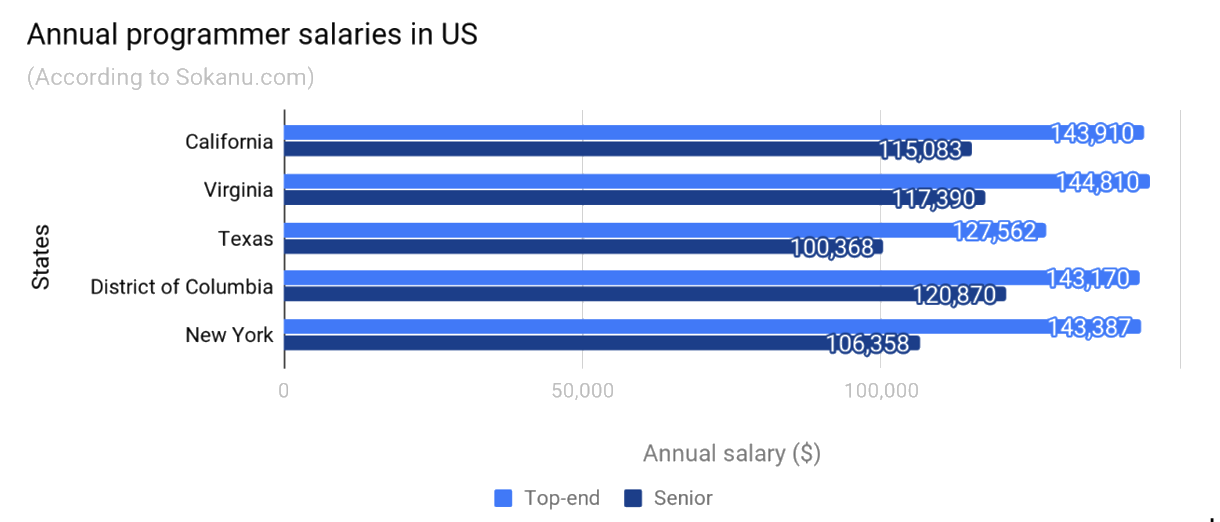 So how do the software outsourcing rates compare in the two countries? Developer costs are notoriously difficult to evaluate. Rates vary across companies, and accurate data is only available via directly contacting development shops. This is exactly what we did. The rates below are averages from a selection of companies who shared their rates with us:
| Avg cost per hour ($) | junior | middle | senior | QA | architect |
| --- | --- | --- | --- | --- | --- |
| Argentina 🇦🇷 | 34 | 41 | 53 | 39 | 58 |
| Ukraine 🇺🇦 | 30 | 36 | 47 | 33 | 50 |
There's some publicly available data, too. Most outsourcing companies featured on Clutch.io share their minimum and maximum rates. This data isn't too precise, but it's pretty indicative of how countries compare cost-wise. The table below contains the average maximum and minimum rates of the top-20 Argentinian and Ukrainian software companies found on Clutch.io:
| Country | Min rate ($/hour) | Max rate ($/hour) |
| --- | --- | --- |
| Argentina 🇦🇷 | 31.25 | 61.5 |
| Ukraine 🇺🇦 | 32.5 | 61.5 |
Winner: tie
4. Attrition rates
If you think that developer retention is a pain point, you're 100% right. LinkedIn reports that in 2017, software development had the highest turnover rate among all industries. Fueled by the ever-increasing demand for talent, developer turnover reached 13.3% in the US. Another report from LinkedIn states that developers are 12% more likely to engage with recruiters than other professionals.
Okay, high developer turnover is a problem, but can you remedy it by outsourcing software production? The bad news is that other countries face high developer attrition as well. According to Nearshore Americas, attrition reaches 20% in Argentina's software companies. On the other hand, the 10% attrition in the Ukrainian IT sector is fairly low, even compared to the US.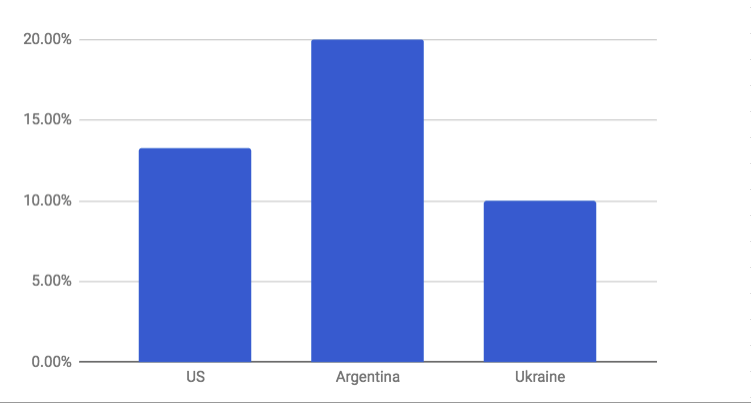 As for the good news, development shops are pretty good at handling attrition. Should a developer leave, an outsourcing company will find a substitute within weeks, at no additional cost. Besides, the opportunity of working for American brands is still a huge motivation factor for Ukrainian and Argentinian engineers. For this reason, remote developers are often more motivated than local American engineers.
Winner: Ukraine
5. Time zones: UTC−3 (Argentina) vs UTC+2 (Ukraine)
Is time gap really an obstacle in our connected world? It most certainly is in software outsourcing. As a rule of thumb, global software teams need 3–4 overlapping working hours to keep communications productive. While both Argentina and Ukraine allow for this productivity window, the former is an undisputed winner in the time zones department.
| Eastern Standard Time | 8am | 6pm | Overlapping working hours |
| --- | --- | --- | --- |
| Argentina (UTC−3) | 9am | 7pm | 8 |
| Ukraine (UTC+2) | 3pm | 1am | 4 |
There's one additional thing to note, as far as time zone go. Sometimes, remote developers are ready to work irregular hours to accommodate for the difference in time zones. So if you're considering a more remote location, inquire about this from your dev shop.
Winner: Argentina for the US, Ukraine for Europe
6. English language proficiency
The EF FPI (Education First English Proficiency Index) is a straightforward indicator of how well a particular country speaks English. Last updated in 2017, the index covers Latin America, Europe, Asia, and the Middle East. Judging by EF FPI, Argentina has an edge over Ukraine:
Argentina: 56.51
Ukraine: 50.91.
Naturally, development shops check English proficiency when screening their candidates. That's why you can expect developers from outsourcing companies to be more proficient in English than the general population of their county.
Winner: Argentina
Comparison matrix: software development in Ukraine vs Argentina
Let's take another quick look at how the two destinations compare across the criteria we've covered. View the key figures in the comparison matrix below.
| | | |
| --- | --- | --- |
| | Argentina 🇦🇷 | Ukraine 🇺🇦 |
| Market size (approx. number of developers) | 80,000 | 116,000 |
| TopCoder Country ranking (lower is better) | 20 | 6 |
| HackerRank Programming Olympics | – | 11 |
| Software outsourcing rates | 31.25–61.5 | 32.5–61.5 |
| Attrition rates | ~20% | ~10% |
| Overlapping working hours with the US (EST) | 8 | 4 |
| EF English Proficiency Index (higher is better) | 56.51 | 50.91 |
Summing it all up: choosing between Argentina and Ukraine, where should you outsource?
Looking at the two destinations, there's really no clear winner. The market for software outsourcing in Ukraine is a more mature one, which explains better rankings and more competitive pricing. The Eastern European destination is also on the Bloomberg's list of top-50 most innovative countries.
Argentina, in the meantime, is a rising star. It has fewer developers and it's slightly more expensive than Ukraine. That said, it's geographically close to the US, which may be an important decision factor for some American companies. Of course, Ukraine has the same advantage when working with Western European countries.
Ultimately, both outsourcing countries have their advantages. Both options are compatible with the dedicated teams outsourcing model, which is a major advantage over locations like India or China. So whether it's Argentina or Ukraine, to a greater extent your experience will depend on the development shop.
If you're exploring outsourcing destinations, one of our earlier posts compares software development in Poland, Romania, and Ukraine. Our another article on top outsourcing countries covers 14 global locations. And if you're looking for an awesome development shop in Argentina or Ukraine, there are quite a few reasons to consider AgileEngine:
We are a DC-based Inc 5000 business with remote development centers in both Argentina and Ukraine. In a sense, our business model combines the best aspect of onshore and nearshore outsourcing.
Clutch named us a top-ranked custom software development company in Bay Area. Besides, we're literally the top-1 dev shop in San Francisco.
AgileEngine in on the Clutch list of top-10 Ukrainian software development companies as of June 2018. We're also among the top-5 employers for software developers in Ukraine.
We were among the early adopters of React Native. The app we built in 2016 is now on the React Native showcase.
Our expertise spans across mobile, enterprise, UI, and full-stack web development. We built software for aerospace, BI, retail, content publishers, and even smart agriculture
Want to know more? Contact us and inquire about a no-risk trial. We work with some of the best-known tech brands, and we love to build software that impacts people's lives.