Eastern Europe has become the primary destination for tech brands seeking to hire nearshore and offshore software development companies. This post will explore the region's major outsourcing locations: Ukraine, Poland, and Romania. We will compare these countries' markets and software outsourcing companies to help you decide which one suits you best.
Overview of markets for software outsourcing in Ukraine, Romania, and Poland
Being the go-to options for software development outsourcing in Eastern Europe, the three countries are home to hundreds of thousands of skilled programmers. Let's begin with a brief overview of the markets for remote software development in Ukraine, Romania, and Poland.
Ukraine
A 45-million population combined with a nation-wide interest in programming as a vocation makes for a solid argument in favor of software companies in Ukraine. The country has 1000+ vendors ranging from web development studios and QA firms to large R&D centers and international software engineering providers.
Romania
One essential thing to note about
Romania is that it has more programmers per capita than US, Russia, or India
. Known for its web development professionals and fintech expertise, Romania can successfully compete with larger outsourcing destinations.
Poland
Giants like Microsoft and Oracle have been running R&D centers in Poland for decades. Compared to offshore software development companies in Ukraine and Romania, Polish vendors have more experience working directly for global brands.
Number of developers in Ukraine, Romania, and Poland
There's a disclaimer to make before we can proceed with this section. Stats on the number of developers for each of the outsourcing destinations varies from source to source. Precise numbers are simply impossible to get. For this reason, we'll use two different kinds of statistics:
An estimate of StackOverflow users resident in one of the three outsourcing destinations. The selection covers the users active in threads related to mobile and web development, QA automation, and other software engineering topics.
The numbers of employees reported by software development companies in Ukraine, Poland, or Romania.
Source
Ukraine
Poland
Romania
Commentary
infoshare.pl
166,000
254,000
118,000
Regular StackOverflow users
uadn.net
100,000
Based on the total number of specialists working in IT companies (software developers, QAs, managers)
mckinsey.com
160,000
techcrunch.com
95,000
In case with every country, you can expect that about 60% of these figures are software and web development professionals. Test automation engineers, designers, product and project managers constitute the remaining 40%.
Costs for software development outsourcing
The most precise way to compare prices across the three outsourcing destinations is to directly ask for quotes from outsourcing companies from Ukraine, Poland, and Romania. Thanks to
Clutch.co
, you can also look at the average rates of software outsourcing companies from each country's leader matrix. That's exactly what this section covers. The table below includes the average minimum and maximum rates of the top-20 vendors in Ukraine, Romania, and Poland. The comparison covers both the leading offshore software development companies and the top contenders from each country.
Averages for min. and max. Rates for top-20 companies on Clutch
| Source | Ukraine | Romania | Poland | Commentary |
| --- | --- | --- | --- | --- |
| clutch.co | $34–64 | $56–88 | $39–77 | Average min–max rates per hour for top-20 companies on Clutch.co |
O'Reilly offers another trustworthy source of information on how much software and web development costs across major nearshore outsourcing destinations. In 2016, the media publisher unveiled a set of stats on median salaries of programmers across 27 countries.
Median developer salaries in 2016, according to O'Reily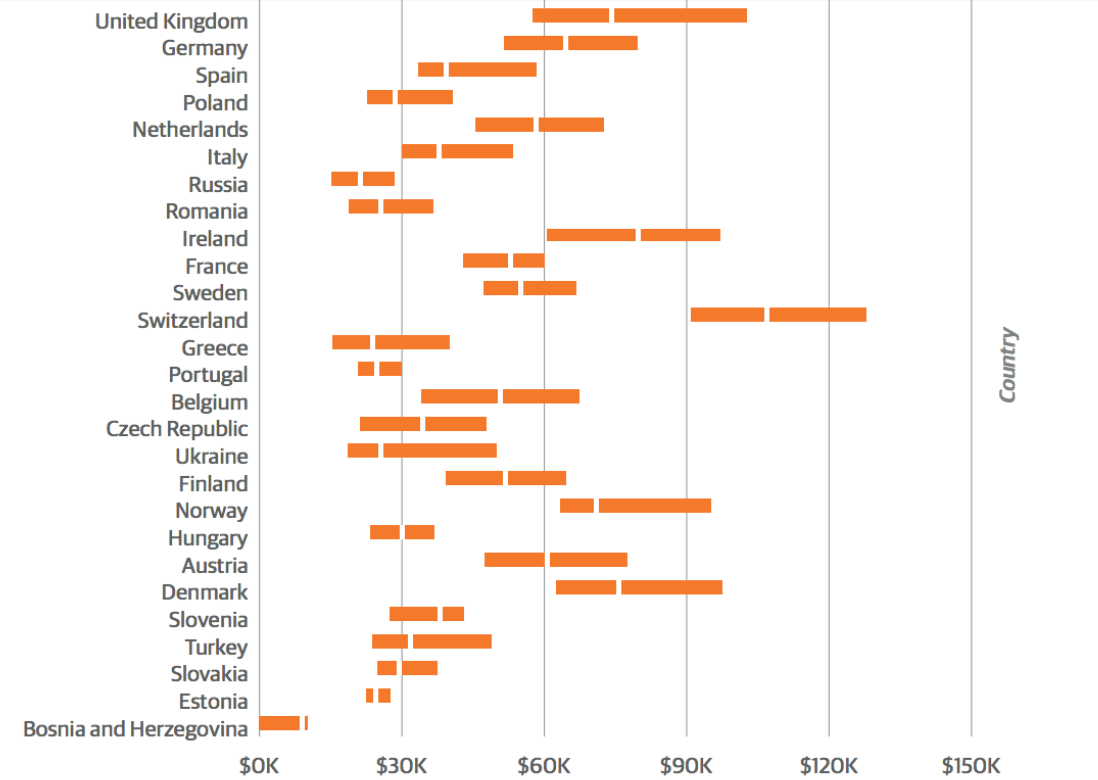 Reputation of programmers from the three destinations
Programmer ratings offer a high-level picture of the reputation of Polish, Romanian, and Ukrainian web developers and software engineers. The two rating websites with an established reputation in the tech circles are
HackerRank
and
TopCoder
, so let's use them as a benchmark. In addition,
Brainbench
offers a rating of countries based on how many certified developers they have.
| | HackerRank | TopCoder | Brainbench |
| --- | --- | --- | --- |
| Ukraine | 11 | 5 | 3 |
| Romania | 20 | 16 | 5 |
| Poland | 3 | 4 | 12 |
There are other things worth taking into account. The IAOP
Global Outsourcing 100
rating mentions 13 companies from Ukraine. At least two of these 13 operate across Poland and Romania, too. Besides and at least two have offices in Poland and Ukraine.
Education
Each of the three countries has a solid technical education system with scores of institutions teaching programming majors.
Ukraine
Bloomberg rates Ukraine's post-secondary education as
5th best
among the 50 countries from its innovation Index. Future Ukrainian web developers and software engineers can choose from 170+ state-owned institutes and universities that graduate over
16,000 IT specialists annually
. Besides, there are hundreds of private educational institutions and non-university programs teaching software development in Ukraine.
Romania
Romania ranks 6th among European countries by the number of certified software development specialists. The country has 5 large polytechnic universities, 59 technical institutes, and 170 technical colleges that teach computer science.
Poland
When it comes to the number of people with university diplomas, Poland is only second to Norway.
NY Times
reports that a little under 40% of Poles between 25 and 34 years of age are university graduates. About 10% of Europe's CI students are studying in one of Poland's universities.
Reputation among global software brands
Tech giants like
Google and NASA are already hiring developers in Ukraine, Romania
, and Poland. So should you follow suite? This section covers the brands that already outsource or outstaff their software development operations to one of the three countries.
Ukraine
Giants like
Samsung
and
Microsoft
have been operating offshore R&D centers in Ukraine for years. Ukrainian web developers are the core workforce behind
Magento
, the world's largest e-commerce platform. Another web development giant
Wix
has a nearshore office in the country. Home security platform
Ring
also outsources its R&D to Ukraine. Mainstream game publishers working with Ukrainian software outsourcing companies include
Ubisoft
,
Electronic Arts
, and
Activision
. The client portfolios of Ukrainian offshore software development companies also feature high-tech manufacturers like
IBM
,
Boeing
, and
Ford
.
Romania
The
attention of the western banking sector towards Romanian programmers
makes for an interesting distinguishing feature. As of 2016–2018, more than 2000–2500 Romanian developers were working for fintech companies. For many, employment in the banking sector offered 10–20% higher salaries compared to similar positions in other business niches. The examples of banking and fintech brands outsourcing software development in Romania include
Deutsche Bank
,
UniCredit
,
UBS
,
Societe Generale
, and
ING
. As for other niches, major brands working with outsourcing companies from Romania include
Hewlett-Packard
,
Ericsson
,
Huawei
, and
Gameloft
. Besides, hundreds of Romanian programmers work in the offshore development centers of
Microsoft
,
Oracle
, and
IBM
.
Poland
IT companies in Poland employ about 55,000 of the 140,000 software development specialists, the rest engaged in manufacturing, FMCG, banking, and other niches. Out of those 55K, about 19,000 constitute the workforce of software outsourcing vendors. The remaining 34,000 are working either directly for western brands, or in offshore development centers of
Microsoft
,
HP
,
IBM, Opera
and the likes.
Software products a country is known for
While Romania isn't really famous for world-class software products of its own, both Ukraine and Poland have something to boast of. Poland's game development studio has won worldwide recognition for it Witcher series. In the meantime, WhatsApp founder Jan Koum is Ukrainian. The country is also home to Petcube, a Kickstarter success story, as well as two famous games, S.T.A.L.K.E.R and Metro 2033.
Bottom line: where to outsource software development?
To sum everything up, the table below summarizes the key points of comparison for Ukraine, Poland, and Romania.
| | Number of developers | Max-min hourly rates | HackerRank | TopCoder | Brainbench |
| --- | --- | --- | --- | --- | --- |
| Ukraine | 100,000 | 34–64 | 11 | 5 | 3 |
| Poland | 140,000 | 56–88 | 3 | 4 | 12 |
| Romania | 95,000 | 39–77 | 20 | 16 | 5 |
Comparing the three, no country is a clear winner. Ukraine's dynamic market and slightly lower prices make for an excellent environment for startups and product companies. Romania, on the other hand, seems to have a well-rooted expertise in fintech, while Poland touts splendid conditions for large R&D projects. Of course, this distinction leaves a lot of blurred lines. In case Ukraine is the software outsourcing destination that you're likely to consider, AgileEngine is the perfect place to turn your idea into a product that people will actually love. Our team has more than 13 years of proven experience with custom software development. We've launched two successful product of our own, and our engineers have been honing their skills on a wide array of applications. We've built UIs, full stack web applications, mobile apps, and enterprise software. Care to learn more? Check out our portfolio or contact us and tell us about your project.