Looks like US-based businesses have never had more reasons to consider software development outsourcing in Latin America. Bloomberg reports that in 2018, US software engineers in active job search chose from 4 offers on average. Meanwhile, last year's employee turnover rate in software was 13.2%, the highest among all industries. Basically, local developers are hard to find and easy to lose in the US.
In the meantime, programmers in Latin America are gearing up to compete with North Americans. The outsourcing industry in LatAm is growing, too, with new talent entering the market. So how does the region compare to other software outsourcing destinations like Eastern Europe or Asia?
Talent Pool: How Many Software Developers are There in Latin American Countries?
Recruiting is faster in countries with large programmer populations. With this in mind, let's see what exactly Latin American countries can offer numbers-wise.
In 2018, Stack Overflow released its annual collection of software development statistics. Part of the published data reflects the number of professional programmers and CS students across countries. Stack Overflow infers these numbers from active accounts whose owners program regularly and frequently.
According to Stack Overflow, the global programmer population reached 21 million in 2018. Out of these 21 million, a little over a million programmers come from major outsourcing destinations in Latin America.  The charts below show how many developers there are in these LatAm destinations versus Eastern Europe and Asia.
Software Developers in Latin America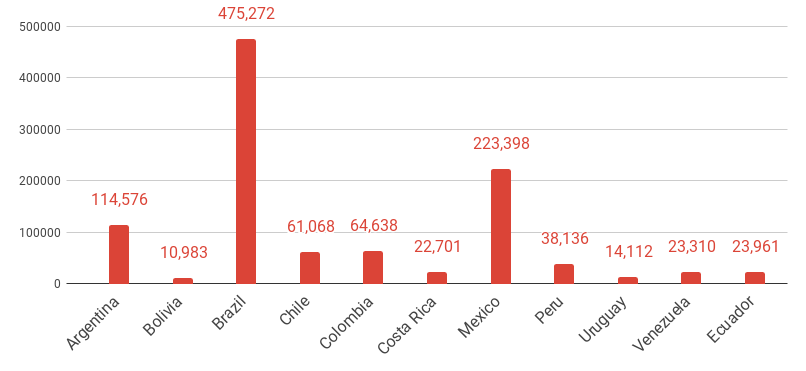 Software Developers in Eastern Europe
Software developers in Asia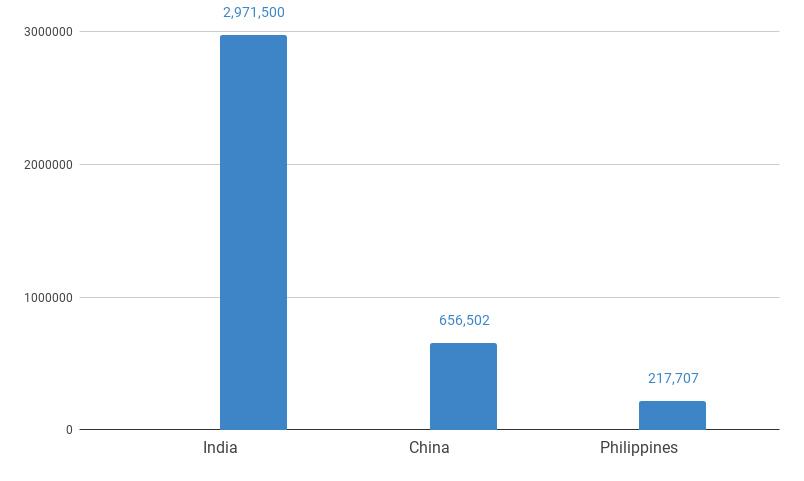 Speaking of how reliable these figures are, ComputerWorld estimated the 2017's global number of software developers at 18,2 million. Factoring in students, this largely correlates with the 21 million quoted by Stack Overflow.
How Skilled are Software Developers in Latin America?
In software outsourcing, more doesn't always mean better. Had the opposite been true, India would've topped all global software development charts. So are the 1+ million developers from LatAm really hirable? One way to evaluate the software development potential of a region is by looking at global programmer rankings. This article will zoom in on the programmer charts from TopCoder and HackerRank.
TopCoder Country Rank (2018)
One great thing about the TopCoder chart is that it reflects constantly-updated data from the last 180 days. Knowing this, it always makes more sense to occasionally check the TopCoder website for updates. As of July 2018, the four Latin American countries featured in the chart are:
Brazil (ranks 14th)
Argentina (17th)
Colombia (27th)
Mexico (31).
If you're wondering what countries take the leading positions, here's a screenshot of the TopCoder chart as of July 2018: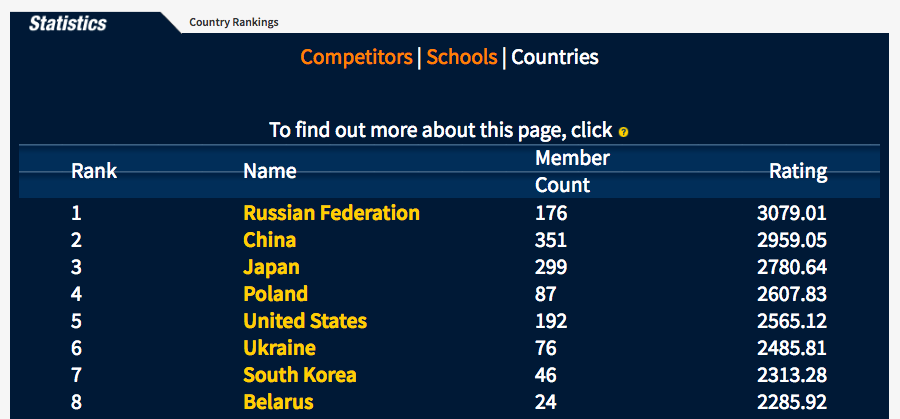 HackerRank Programmer Olympics (2016)
The latest chart from HackerRank dates back to 2016. That said, the 6 million monthly visitors to the Hackerank website certainly make for a great source of data.
Based on the data from HackeRank, four LatAm countries ranked among the top-50 software outsourcing destinations:
Chile (27th)
Brasil (38th)
Argentina (39th)
Colombia (45th).
Note, that the outsourcing destinations that made it to both charts are also the countries with the most programmers. The larger the developer population, the greater the competition. Or, at least, this principle applies as long as outsourcing companies compete by increasing value, not just lowering prices. Still, prices constitute an important part of the software outsourcing equation.
Costs: What are the Rates of Software Developers in Latin America?
Cost-saving isn't the only reason why businesses outsource, but it certainly is a huge deciding factor. Taken from Accelerance, the data in the table below compares software development rates in Latin America, Eastern Europe, Asia, and the US.
| Title of Full Time Employee (FTE) | Latin America | Eastern Europe | Asia | United States |
| --- | --- | --- | --- | --- |
| Junior Software Developer | $35–44 | $25–42 | $18–24 | $105–111 |
| Middle Software Developer | $30–52 | $35–56 | $24–35 | $132–140 |
| Senior Software Developer | $45–55 | $45–70 | $30–42 | $154–163 |
| Tech lead | $50–61 | $45–70 | $30–42 | $176–187 |
| Architect | $60–72 | $50–77 | $35–48 | $198–292 |
| Junior QA | $30–39 | $25–42 | $15–24 | $77–81 |
| Middle QA | $35–44 | $30–49 | $20–30 | $99–105 |
| Senior QA | $40–50 | $40–63 | $25–36 | $143–169 |
| Graphic Designer | $40–50 | $35–56 | $25–36 | $79–163 |
| Project Manager | $55–66 | $45–70 | $35–48 | $133–233 |
| Business analyst | $45–55 | $40–63 | $30–42 | $110–205 |
As far as developer rates go, Latin America is generally a little more expensive than Eastern Europe and considerably more expensive than Asia. Note, though, that paying premium gets you a nearly full-day overlap with the US. For some American companies, this may be worth the money.
What Brands Outsource Software Development to Latin American Companies?
The portfolios of top Latin American software outsourcing companies feature tech brands like Google, Microsoft, Oracle, Hewlett-Packard, IBM, and Dell. The examples of media brands outsourcing to LatAm include Disney, MTV, Discovery, LivingSocial, and the Wall Street Journal. Besides, there are cases of Verizon, Comcast, FedEx, Deloitte, Unilever, and other global companies found on the websites of Latin American software development shops.
Business Environment
Latin American software development companies are present in the 2018's Global Outsourcing 100. The region boasts an Internet penetration index of 67%, which is 13% higher than the global average (54%). Asia pales in comparison, with a modest index of 48%.
The region's key outsourcing destinations Argentina, Brazil, and Mexico also have a relatively high Global Connectivity Index:
| Country | Country Rank | Score |
| --- | --- | --- |
| Argentina | 55/79 | 38/100 |
| Bolivia | 76/79 | 25/100 |
| Brazil | 44/79 | 43/100 |
| Chile | 33/79 | 48/100 |
| Colombia | 54/79 | 39/100 |
| Mexico | 48/79 | 42/100 |
| Peru | 56/79 | 37/100 |
| Uruguay | 49/79 | 41/100 |
| Venezuela | 62/79 | 33/100 |
| Ecuador | 67/79 | 31/100 |
To give you some perspective, India ranks 63rd out of 79 countries and has a score of 33 (out of 100). The Connectivity Index of top outsourcing destinations in Eastern Europe is comparable to that of Brazil, Argentina, and Mexico:
| Country | Country rank | Score |
| --- | --- | --- |
| Ukraine | 50/79 | 41/100 |
| Poland | 38/79 | 45/100 |
| Romania | 39/79 | 45/100 |
Indices aside, Latin America is taking proactive steps to constantly improve its software ecosystem. The region has TechnoLatinas, a startup movement that unites 5000+ companies collectively worth over $38 billion. In particular, TechnoLatinas include 124 firms with a worth exceeding $25 million. Out of these 124 firms, 9 unicorns are worth over $1 billion.
There's been considerable progress on the country level, too. Mexico's software industry is capitalizing on Trump's immigration ban by attracting LatAm developers who would've otherwise emigrated to the US.
Argentina, in the meantime, is trying to grow a small army of software developers of its own. The country's 111 Mil Program aims at bringing 100K+ developers to the local job market. Even though the program hasn't been wildly successful, it still increased Argentina's software developer workforce by 2000 specialists.
English Proficiency
The geographic proximity of Latin America to the US is an advantage because of the large window for communications. But how fluent and meaningful will these communications be? Strangely enough, Latin America's average EF English Proficiency Index is lower compared to Europe and Asia:
| Region | EF EPI |
| --- | --- |
| Europe | 55.96 |
| Asia | 53.6 |
| Latin America | 51.47 |
Nevertheless, Latin American software developers should know English well enough for work-related discussions. Besides, major outsourcing countries in Latin America have an EF EPI that's comparable to Europe's average. For instance, Argentina's EF EPI is 56.51.
| Country | EF EPI |
| --- | --- |
| Argentina | 56.51 |
| Brazil | 51.92 |
| Chile | 51.5 |
| Colombia | 49.97 |
| Costa Rica | 53.13 |
| Mexico | 51.57 |
| Peru | 50.5 |
| Uruguay | 51.73 |
| Venezuela | 45.71 |
| Ecuador | 49.42 |
There's one final comment to make as far as English proficiency goes. Indices like EF EPI reflect country-wide averages, which are naturally lower compared to the English proficiency software developers. Still, nation-specific averages set a benchmark for how well English is taught at schools and universities. It's this reason only that warrants talking about EF EPI when comparing outsourcing destinations.
Summing It All Up: Why Choose Latin America for Software Development Outsourcing?
Knowing how LatAm compares to Eastern Europe and Asia, the region has three major advantages:
Geographic proximity with the US. Having 6–8 working hours overlap between locations means more opportunities for real-time communication.
A large talent pool of more than one million developers who rank well in global programmer rankings.
Generally favorable business environment with a progressive culture. LatAm has a startup culture of its own, which means software development will continue to grow in popularity as a vocation.
Key Downside: Software Development Services Cost More in LatAm than in Eastern Europe and Asia
Software developer rates in Latin America are slightly higher than in Eastern Europe and significantly higher than in Asia. That said, developer rates in LatAm are also lower than in the US or Western Europe.
What Latin American Country Should You Choose?
Brazil, Argentina, and Mexico take the lead, followed by Colombia and Chile. Out of these five, Brazil has the most developers and occupies the highest positions in programming charts, followed by Argentina. That said, Argentina has better overall English proficiency. The country's socio-political environment has also grown friendlier to software outsourcing in the last few years.
If Argentina is your destination of choice, chances are you'll also want to learn more about AgileEngine. We are a DC-based company with custom software development centers in Argentina (Buenos Aires) and Ukraine (Kiev, Kharkiv, and Odessa). Here are the three main reasons to consider us as your potential software development partner:
Clutch named as the leading custom software development firm in San Francisco. We're also in the top 3 in Bay Area.
Our portfolio includes apps featured on the React Native Showcase, as well as products from the world's best-known tech brands.
We love to prove ourselves. All of our projects start with a love-us-or-don't-pay trial, and so far, 100% of our clients loved our work. We're super-serious about keeping this streak going.
If this sounds interesting, contact us and tell us about your product. Whether it's a mobile app, an enterprise solution, or a web platform involving UI or full-stack development, we can make your software product the best in its niche.