In 2016, the Inc. magazine featured AgileEngine as the 4084th company on its list of 5000 fastest-growing US-based businesses. Fast-forward three years, our team ranks #3631.
The positive change in our ranking reflects the explosive growth that AgileEngine has undergone in the past three years. In 2016, we had 120 people on board. In the summer of 2019, we hit a milestone of 400 team members, and we've welcomed even more people since then!
Our ever-growing team is making an impact on the apps loved by multimillion audiences and enterprise solutions used by Fortune 500 companies. Today, our portfolio showcases more than 70 products that revolutionize digital media, fintech, big data, retail, cybersecurity, and other industries.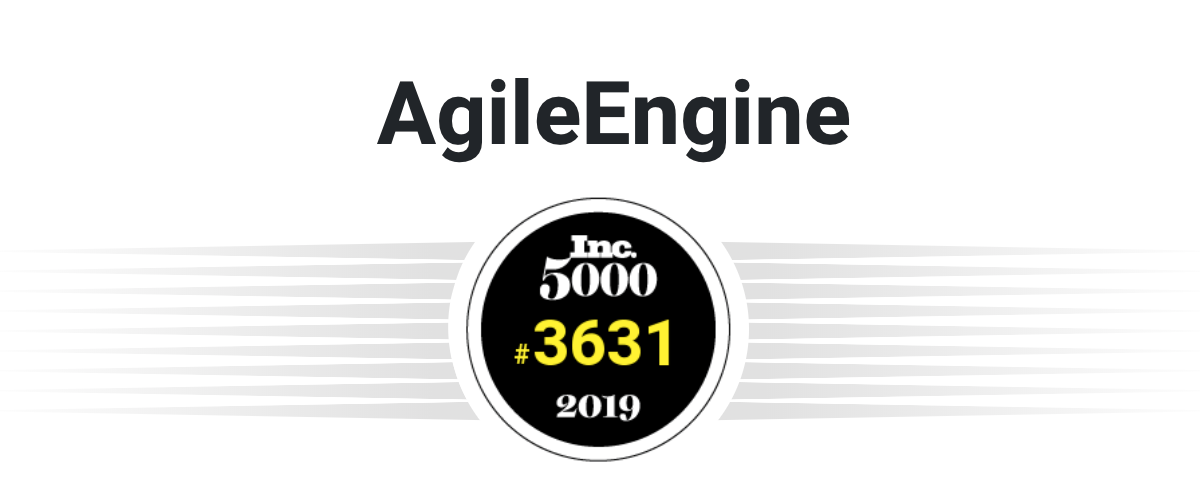 About Inc. 5000
The Inc. magazine published its first list of America's fast-growing companies in 1979. The list initially zoomed in on 100 publicly held small enterprises, and it changed its focus to privately owned businesses in 1983. The same year, the list expanded its coverage to 500 companies. In 2008, the Inc. magazine broadened the scope of its list once again to cover 5000 companies.
Inc. rates companies based on their growth over a 3-year period. The following types of companies qualify for Inc. 5000:
US-based, privately held, and independent (the list doesn't feature businesses that are subsidiaries of other companies)
Profitable during at least 3 years. The Inc. guidelines specify a requirement for $100,000 profits in the company's first year. In addition, the company needs to have at least $2 million profits in the year prior to applying to Inc 5000.
About AgileEngine
Founded in 2010, AgileEngine grew from a small team of talented software engineers in the US and Ukraine. During its 9-year history, the company opened nearshore R&D centers in the Ukraine's Kharkiv, Kyiv, and Odesa, as well as Argentina's capital city Buenos-Aires.
AgileEngine is the #1 customs software developer and #1 B2B firm in Argentina according to Clutch. The company also holds the rank of a top-3 app developer in DC, and one of the top-5 best employers for software developers in Ukraine.