On our own, we cannot end wars or wipe out injustice, but the cumulative impact of thousands of small acts of goodness can be bigger than we imagine.
—Queen Elizabeth II
Two months of the Russian war in Ukraine. Two months of supporting the people of Ukraine and strengthening business resilience. Russia's invasion has affected the tech industry in countless ways, but AgileEngine was fast to react to disruptive changes and get back into action.
What's the company's state of affairs?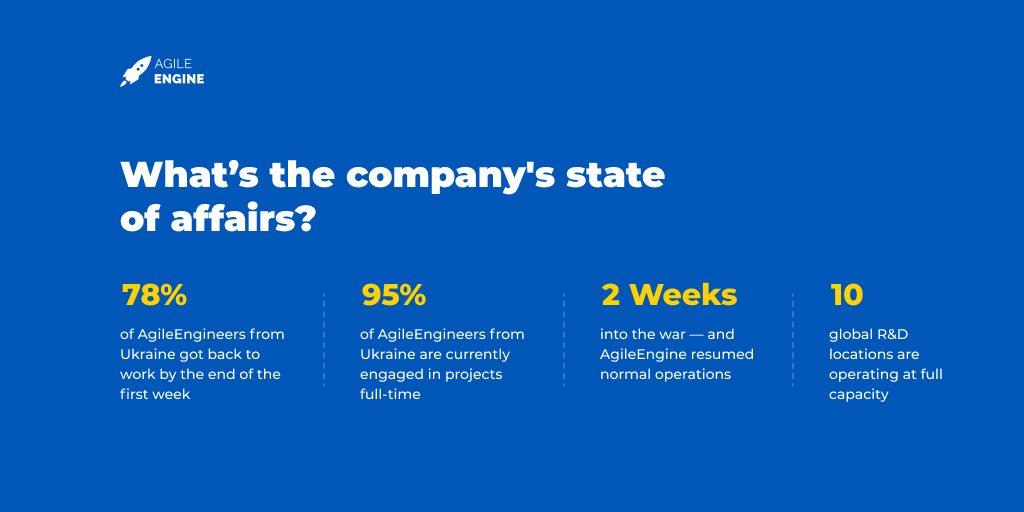 These are the results of the AgileEngine strategy aimed at ensuring that people and business operations remain intact no matter what. This strategy builds on solid BCP, a robust security system, and a people-centric policy.
A solid security system and a mature business continuity plan
AgileEngine has always been, is, and will be about two things — people and reliability — which is why the company has a dedicated security team and a longstanding business continuity plan (BCP).
The AgileEngine security system
As an ISO 27001-certified company, AgileEngine ensures that its IT systems are managed by highly-vetted experts from multiple locations. Our systems and data are hosted on the cloud with a 99.9% SLA. There are no physical servers or systems hosted in Ukraine or any other location that can affect our operations. We use Transport Layer Security (TLS) encryption for all data transfers and have all our sensitive data encrypted at rest.
Our team accesses the systems through encrypted laptops provisioned with end-point protection software enabling AI-driven antimalware protection, control over network and USB devices, incident investigation and automatic OS recovery.
All of our assets including IT systems are ranked in accordance with a four-tier business impact analysis model. Since the beginning of the war, all systems from Tier-0 to Tier-3 have been available and stayed operational.
Business continuity planning (BCP)
BCP has been integral to AgileEngine right from the start, and we've been continuously improving our readiness to respond to disruptive scenarios, wars included.
Russia's history of invasions, including Chechnya, Georgia, Crimea, and Donbas, has foreshadowed a wide-scale military conflict. This is why the international warnings about significant military buildup near Ukrainian-Russian borders served as a direct signal to take action.
At the end of November 2021, we updated our BCP to reflect the Russian invasion scenario. The updated BCP included:
Detailed action steps for two conflict scenarios: escalation in the southeast and full-scale invasion.
Three escalation levels — yellow, orange, and red — and criteria for their activation.
Test plan for a full-scale invasion scenario with relocation to Kraków, Poland.
In January, our test group temporarily moved to Poland to further help others should the situation deteriorate.
The orange-flag escalation level was set on February 13 with recommendations to relocate to safer locations by February 20. A relocation budget was allocated and some part of the Ukrainian team moved to Western Ukraine and Poland.
The red-flag escalation level came into effect on February 24 when Russia began a military invasion of Ukraine. For the following two weeks, the company helped with the evacuation, coordination, and safety monitoring of AgileEngineers.
All-round support in Ukraine
In times of crisis, everyone needs to do their part. AgileEngine helps fight against Russian aggression by supporting Ukraine and our team in three ways:
Taking care of its key asset — people
Keeping the business running to support Ukraine
Partnering with companies that stand with Ukraine
Here is what this all-round support looks like in detail.
How AgileEngine supports its people
The company provides assistance in many areas: from financial and moral support to organizing transportation and shelters: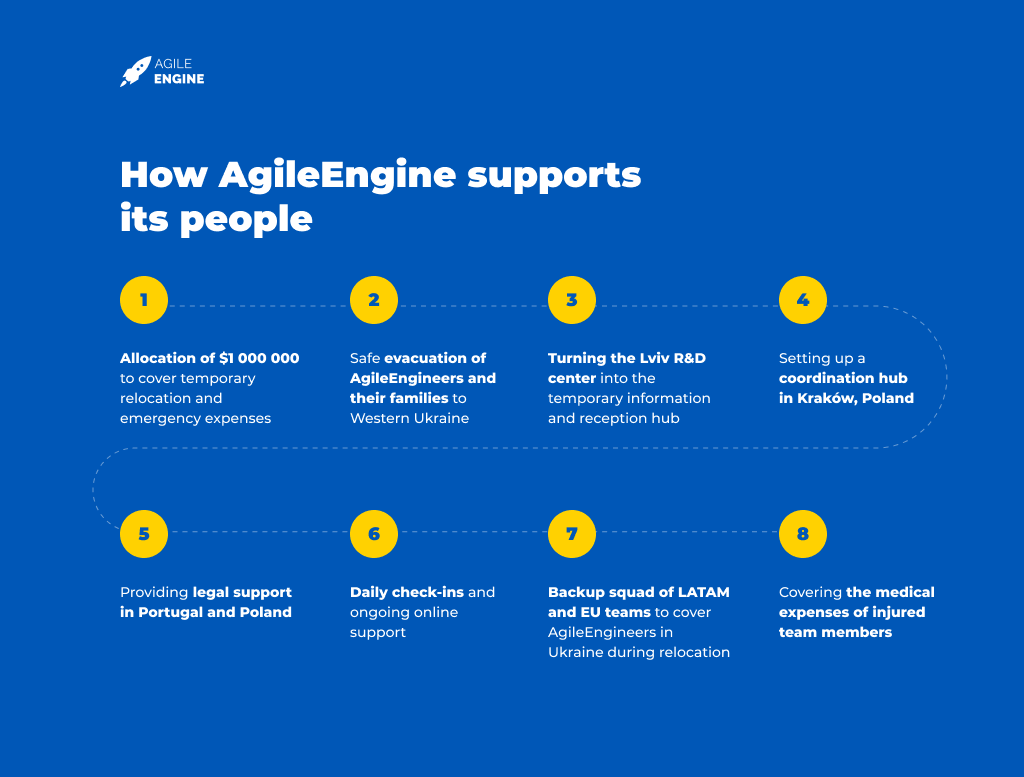 How AgileEngineers support Ukraine
From our CEO Alex Kalinovsky and VP of Client Engagement Olga Kavunenko to delivery and back-office teams, everyone is doing their part. The initiatives include: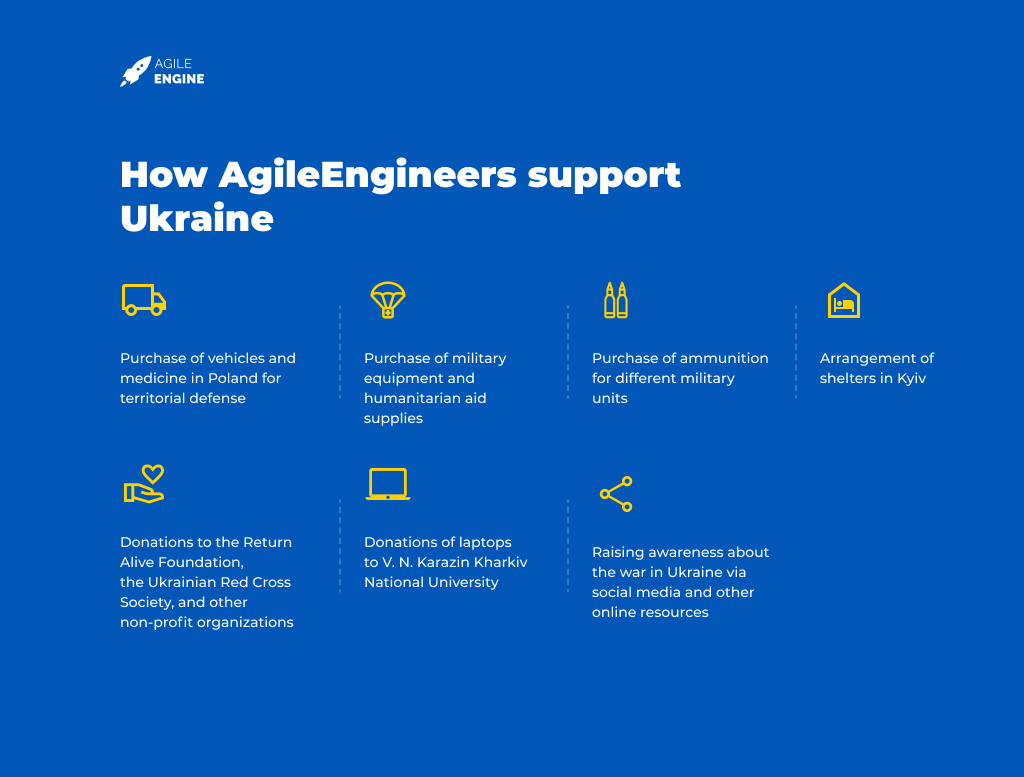 How AgileEngine clients support Ukraine
Fortune 500 companies, global brands, and innovative startups from Silicon Valley and all over the world — our clients have united to stand with Ukraine. AgileEngine would like to thank each and every one of them for: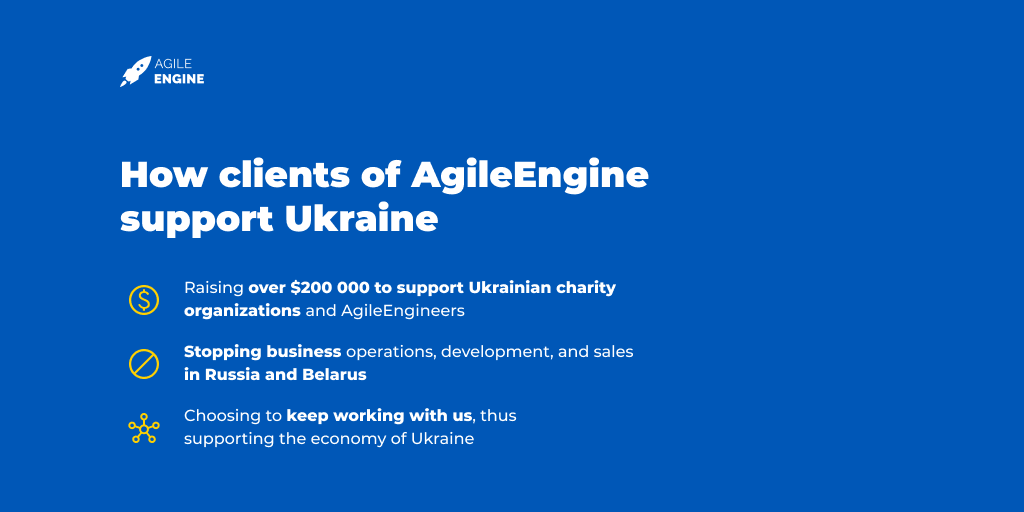 Quoting our CEO Alex Kalinovsky, AgileEngine has been and will continue to support the Ukrainian people and their army in this heroic fight. Totalitarian states can not conquer people who are willing to fight for their freedom and their country.
We stand up for the right cause by uniting and helping each other. Every AgileEngineer gets comprehensive support and contributes to the future of Ukraine. Despite these challenging times, we work at full capacity and are committed to delivering engineering excellence to every client. Thanks for choosing us over and over again. Thanks for standing for what's right.
Slava Ukraini!